In the digital age, the importance of a well-designed manufacturing website cannot be overstated. As trade shows and in-person sales meetings have taken a backseat, a company's website has emerged as the most impactful marketing asset. This is particularly true for manufacturing companies, where nearly 70% of a buyer's journey happens online before they even reach out to your sales department. It's no longer enough to have a website that acts as a digital brochure. Instead, B2B manufacturing and industrial companies need an online presence that communicates their unique selling proposition, showcases the quality of their offerings, and inspires trust in their future reliability. Welcome to the ultimate guide to revamping your online presence with the best manufacturing website design practices, brought to you by us at Cleartail Marketing.
Manufacturing websites need to cater to different audiences. Engineers and technical audiences want quick, intuitive access to technical details before talking to a sales rep. At the same time, purchasing or C-level visitors have a separate but overlapping mental checklist they use to evaluate a new supplier online. A properly designed manufacturing website can navigate these complex needs and increase lead quality, providing a significant boost to your business.
To kick things off, here's a quick rundown of what a great manufacturing website should include:
Clear communication of who you are and how you're different
Representation of the value and quality of your offerings
Quick and intuitive access to technical details
Trust-inspiring elements like customer testimonials and case studies
An easily navigable structure and user-friendly design
Localization and translation functionality for global audiences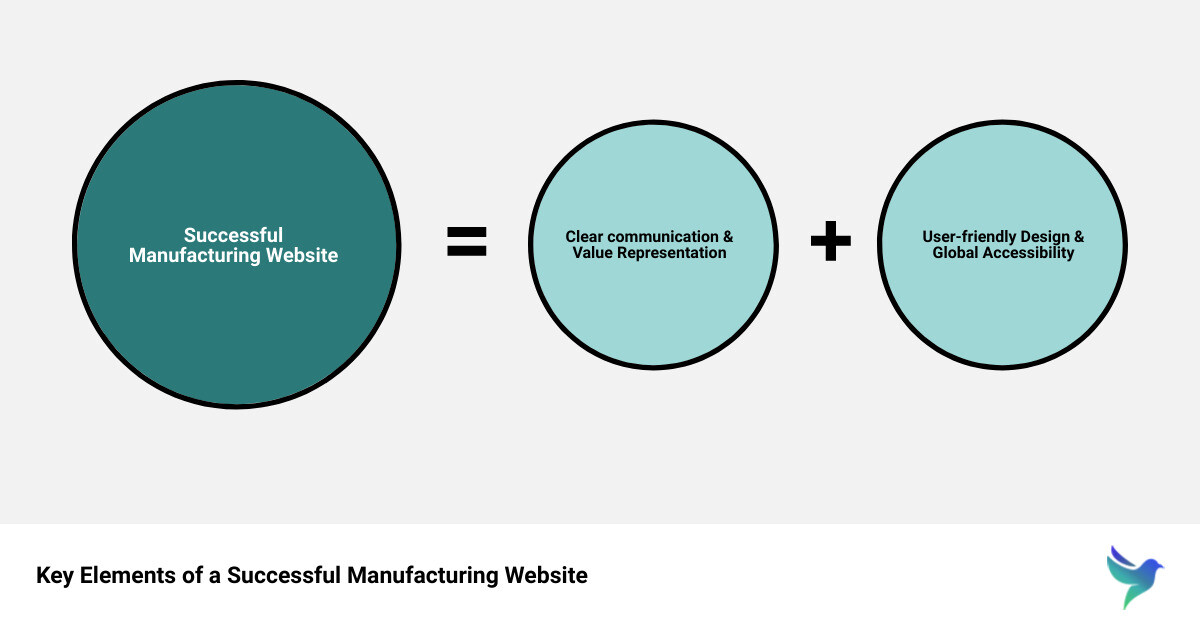 In this guide, we'll delve into the unique needs of a manufacturing website, why WordPress is the preferred website builder for manufacturing companies, and some of the best manufacturing website designs to inspire you. We'll also outline the key elements that make a manufacturing website successful and how we at Cleartail Marketing can help you achieve that success. Stay tuned for a comprehensive look at the world of manufacturing website design.
Understanding the Unique Needs of a Manufacturing Website
Welcome to the world of manufacturing websites, where functionality and information are just as important as aesthetics. If your website isn't up to par, it can be like trying to sell a high-quality product with a poorly designed brochure.
At Cleartail Marketing, we understand the unique challenges faced by manufacturing companies when it comes to website design. Let's delve into these unique needs and how they can be addressed effectively.
Showcasing Your Manufacturing Capabilities
The first and foremost requirement of a manufacturing website is to showcase your manufacturing capabilities in a clear, compelling and accessible manner. For instance, Path Robotics, a manufacturer of autonomous welding robots, uses their website to tell a compelling story of their offerings through stunning visuals and detailed information. This allows potential clients to understand the full scope and value of what they offer, inspiring them to take action.
Showcasing capabilities doesn't just mean listing your products or services. It means telling the story of your brand, your unique selling points, and why a potential customer should choose you over your competitors. It's about creating a narrative that resonates with your target audience and inspires trust.
Providing Technical Resources and Information
Most B2B buyers, especially in the manufacturing sector, are looking for technical details before they even reach out to your sales team. In fact, nearly 70% of the buyer's journey happens online. Therefore, your website needs to provide quick and intuitive access to technical resources and information.
For instance, Kongskilde Industries, a specialist in pneumatic material conveyance, provides a robust filtering mechanism on their website to help users navigate their offerings. Whether it's product specifications, user manuals, or industry-specific content, providing these resources can greatly increase your website's value to your visitors.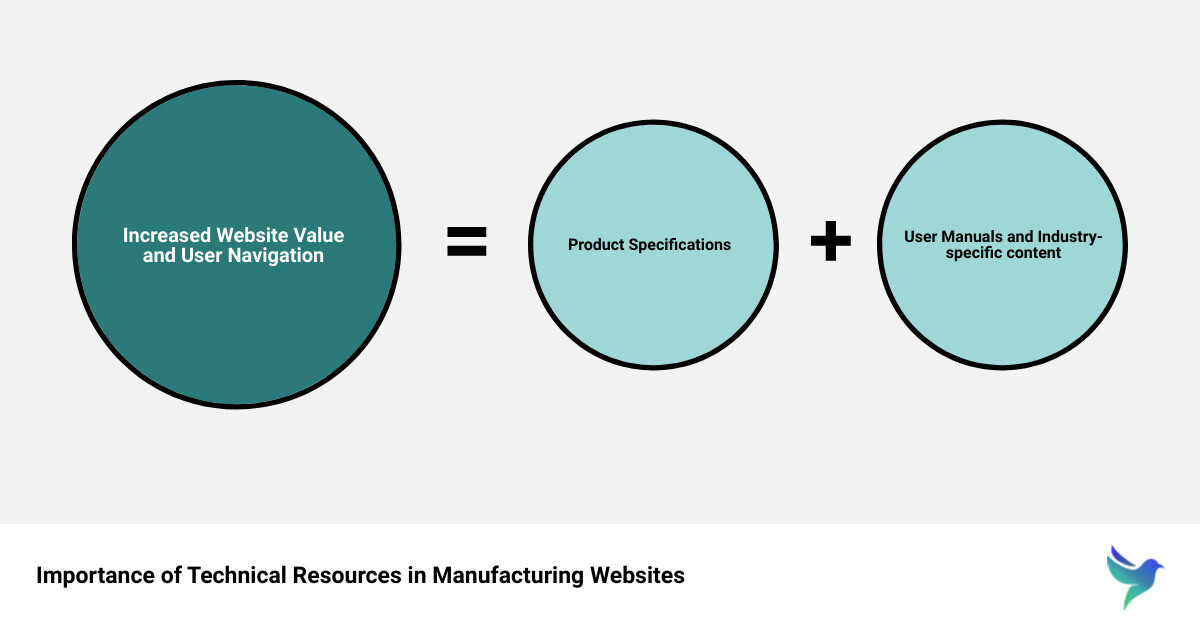 Highlighting Customer Testimonials and Case Studies
Manufacturing is an industry where trust plays a crucial role in the buying decision. One of the best ways to inspire this trust is through customer testimonials and case studies. These serve as social proof that your products or services deliver on their promises.
For instance, Minnesota Rubber and Plastics (MRP) showcases case studies on their website to provide real-world examples of their products and services in action. This not only helps to convince potential customers of the value you bring but also gives them a clearer understanding of how your solutions can be implemented.
Remember, in the end, a well-designed manufacturing website is about more than just good looks. It's about meeting the unique needs of your audience, providing value, and building trust.
In the next section, we will explore why WordPress is considered the best website builder for manufacturing companies. But before that, if you need expert help in revamping your manufacturing website, remember that we at Cleartail Marketing are always here to assist you.
Why WordPress is the Best Website Builder for Manufacturing Companies
To thrive in today's digital era, it's imperative to have a robust, user-friendly, and highly optimized website. As a business owner, you might be spoilt for choice with the myriad of website builders available today. However, one platform stands out from the crowd – WordPress. This versatile and widely-popular platform is the preferred choice for over 64 million websites worldwide, and for good reasons!
The Popularity and Versatility of WordPress
WordPress has managed to secure its position at the pinnacle due to its versatility, ease of use, and a plethora of customizable options. According to our in-house expert at Cleartail Marketing, WordPress is a reliable and efficient platform that offers a multitude of plugins, allowing businesses to tailor their website according to their unique needs.
Whether you need to showcase your manufacturing capabilities, provide technical resources, or highlight customer testimonials, WordPress gives you the ability to do it all. And the best part? You don't need any technical expertise to add metadata, optimize images, or insert target keywords. WordPress makes SEO simple to implement, which is a game-changer in the competitive online landscape.
How WordPress Meets the Needs of Manufacturing Websites
Manufacturing websites often require advanced technical functionality and visual enhancements to effectively display their products and services. WordPress, with its thousands of plugins, makes this possible and relatively straightforward. You can create a product gallery, include detailed product descriptions, or even incorporate a customer portal, all with just a few clicks.
Moreover, with the rise in mobile internet usage, it's critical for your website to be mobile-friendly. At Cleartail Marketing, our team of WordPress developers can swiftly deliver mobile-optimized websites that meet the best standards for search engines. After all, a superior user experience not only improves your search engine rankings but also increases customer satisfaction and engagement.
In conclusion, WordPress is a powerful, flexible, and user-friendly platform that can cater to the specific needs of manufacturing companies. However, building a successful website requires more than just choosing the right platform. It's about understanding your audience, delivering valuable content, and providing an exceptional user experience.
At Cleartail Marketing, we combine our extensive experience with our in-depth understanding of WordPress to deliver beautifully designed and perfectly optimized websites for your manufacturing business. If you're ready to revamp your online presence and grow your business, Contact Us Today!
In the following section, we'll review some of the best manufacturing website designs for inspiration. Let's dive in!
Top 10 Manufacturing Website Designs for Inspiration
Looking for inspiration to revamp your manufacturing website design? Here are some top-performing manufacturing websites. These websites not only look visually stunning but are also designed with a strategic approach to drive engagement and conversions.
ZEON Chemicals: Engaging Content and Easy Navigation
The ZEON Chemicals website is a perfect example of a user-friendly interface combined with compelling content. The clean layout, coupled with engaging imagery, immediately grabs the audience's attention. The website is designed to be easily navigated, with clear calls to action guiding visitors towards their desired information. Also, the site's responsive design ensures an optimal viewing experience across various devices.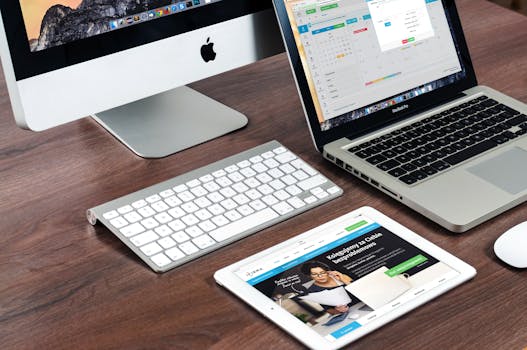 Markforged: Downloadable Technical Information
Markforged stands out for providing a wealth of technical resources, making it easy for potential customers to understand their offerings. The 3D imagery and application-focused content effectively demonstrate how the company's solutions can address manufacturing challenges. Additionally, their learning library simplifies the complex world of 3D printing for visitors.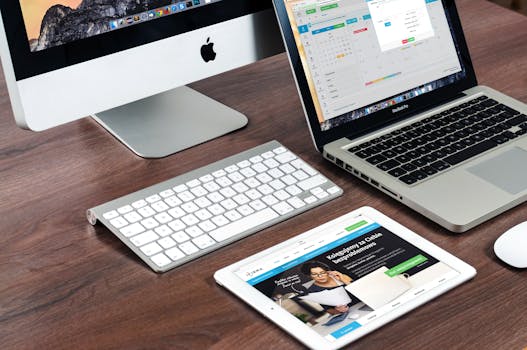 Greenbrier: Gated Lead-Magnet Resources
Greenbrier's website does an excellent job of presenting its value proposition quickly and concisely. The website provides a clear breakdown of specific transportation industry services, each delineated with different brand colors and icons. They also leverage gated resources as lead magnets, driving visitors to provide their contact information for access.
!Greenbrier website
Fairlawn Tool Inc.: Ability to Reach a Real Person
Fairlawn Tool's website stands out for its strong emphasis on customer service. They prominently display their phone number, making it easy for potential customers to reach a real person for inquiries. The compelling value proposition on their homepage, coupled with the user-friendly design, makes their website a great source of inspiration.
!Fairlawn Tool Inc website
Independent Machine Company (IMC): Showcasing Products Effectively
IMC's website is a prime example of effective product showcasing. The homepage highlights their key products and services immediately, without the need for excessive scrolling. The interactive spool calculators and product demonstration videos further enhance the user experience.
!Independent Machine Company website
Graco: Use of Whitespace and Modern Design
Graco's manufacturing microsite is designed for easy navigation, with a clean layout that utilizes whitespace effectively. This site offers easy-to-find resources, making it a breeze for manufacturers to get maximum value from their product offerings.
!Graco website
Siemens Energy: Strong Branding and Use of Graphics
Siemens Energy's microsite showcases professional imagery and videos, alongside concise, customer-focused copy. The website design is focused on making engineers' jobs easier, providing a blueprint for manufacturing websites looking to offer maximum value to their audience.
!Siemens Energy website
Marlin Steel: Sleek and Minimalist Design
Marlin Steel's website design is sleek and minimalist, with compelling copy and visuals that tell you exactly what they do. The site also offers a wealth of gated resources, including case studies, product guides, and custom 3D renderings, making it a great example of a lead-generating website.
!Marlin Steel website
A+ Group: Aesthetically-Appealing Images and Typography
A+ Group's website design uses aesthetically pleasing images and typography to create a visually captivating online presence. The site's design is not just about looks; it's designed to engage visitors and guide them towards the information they seek.
!A+ Group website
Spray Equipment & Service Center: User-Friendly Features and Easy-to-Find Information
The Spray Equipment & Service Center's website is designed with user-friendly features that make it easy for visitors to find the information they need. The website's design is clean and intuitive, making it a great example of a user-friendly manufacturing website.
!Spray Equipment & Service Center website
The above websites offer valuable lessons in creating an effective manufacturing website design. From engaging content and easy navigation to user-friendly features and easy-to-find information, these websites have nailed the art of attracting and retaining their visitors. As we at Cleartail Marketing always emphasize, a well-designed website is your best chance to put your company's best foot forward in the digital world.
Key Elements of a Successful Manufacturing Website Design
A great manufacturing website is not just about aesthetics. It's about creating a seamless user experience that guides your visitors towards the information they need and leads them towards making a purchase or an inquiry. To help you understand what goes into an effective manufacturing website, we've broken down the key elements that contribute to a successful design.
Attention-Grabbing Content
The first impression of your website should be a memorable one. That's why the very first element of a successful manufacturing website is attention-grabbing content. This can be achieved through stunning visuals, compelling headlines, and concise, impactful copy. Your website should immediately communicate who you are, what you do, and how you can solve your customer's problems.
Take the case of ZEON Chemicals, their website has a clean layout and compelling imagery that quickly positions the company as an industrial leader. The benefit-oriented copy on their homepage drives visitors to take action, whether it's viewing products or contacting an expert.
Easy Navigation
User experience plays a crucial role in website design. Your website should be intuitive to navigate, allowing users to find the information they need quickly and easily. This means having a clear, organized menu, consistent page layouts, and logical user paths. A well-structured site can significantly improve user engagement and reduce bounce rates.
Downloadable Technical Information
One unique aspect of manufacturing websites is the need for detailed technical information. This could be in the form of data sheets, 3D CAD models, or product specifications. These resources should be easy to find and download, providing your visitors with the information they need to make informed purchasing decisions.
Markforged, for instance, provides a wealth of technical resources on their website, including data sheets and case studies. Their comprehensive learning library helps visitors understand the basics of 3D printing, enabling them to make more informed decisions about their manufacturing needs.
Gated Lead-Magnet Resources
Lead magnets are an effective way to capture your visitors' contact information for future marketing efforts. These could be white papers, guides, or other valuable resources that visitors are willing to exchange their contact information for. Gated content not only helps grow your email list but also positions your company as an expert in your field.
Ability to Reach a Real Person
Lastly, your website should make it easy for visitors to reach a real person. This could be through a chatbot, a phone number, or a simple contact form. Having a real person ready to answer questions and nurture potential sales prospects can significantly improve your conversion rates.
At Cleartail Marketing, we understand the importance of these key elements in designing a successful manufacturing website. Our expert team ensures that every site we build is optimized for SEO, mobile-friendly, and equipped with all the features needed to engage your audience and convert visitors into leads.
How Cleartail Marketing Can Help Revamp Your Manufacturing Website
To thrive in today's digital age, a well-designed and functional website is vital. But not just any website will do. In the manufacturing industry, your website needs to cater to specific needs, and that's where we, at Cleartail Marketing, excel. Let's delve into how we can help transform your online presence into a powerful, lead-generating machine.
Our Experience and Proven Results in Website Design
With years of experience under our belt, our team of WordPress experts have a deep understanding of what makes a great manufacturing website. We understand the need for a site that not only looks good but also serves as a rich resource for technical information, showcases your capabilities, and strategically guides visitors to the next step in their buying journey.
Our portfolio is filled with successful website designs that have delivered tangible results for our clients. For instance, Bridgesaw.com, one of our clients, grew their sales by a staggering 278% within a year, thanks to our strategic digital marketing efforts. This real-world success is a testament to our work and the results we strive for every client.
Our Dedication to Building Strong Client Relationships
Building strong client relationships is a cornerstone of our approach at Cleartail Marketing. We pride ourselves on our excellent communication and account management. We're dedicated to understanding your unique needs and developing a customized digital strategy that aligns with your business goals. As Chris Sweat, President of Stanek Tool, puts it, "I highly recommend them, it has been a wonderful experience!"
Our Comprehensive Digital Marketing Services
But we don't stop at just website design. Our team provides a full suite of digital marketing services, all geared towards helping your business grow. From Search Engine Optimization (SEO) to Pay-Per-Click Advertising, Email Marketing, and Marketing Automation, we have the tools and expertise to drive traffic to your website and convert visitors into leads.
Furthermore, we understand the importance of a positive online reputation. Our reputation management services ensure your online presence accurately represents your business and its values, fostering trust with your audience.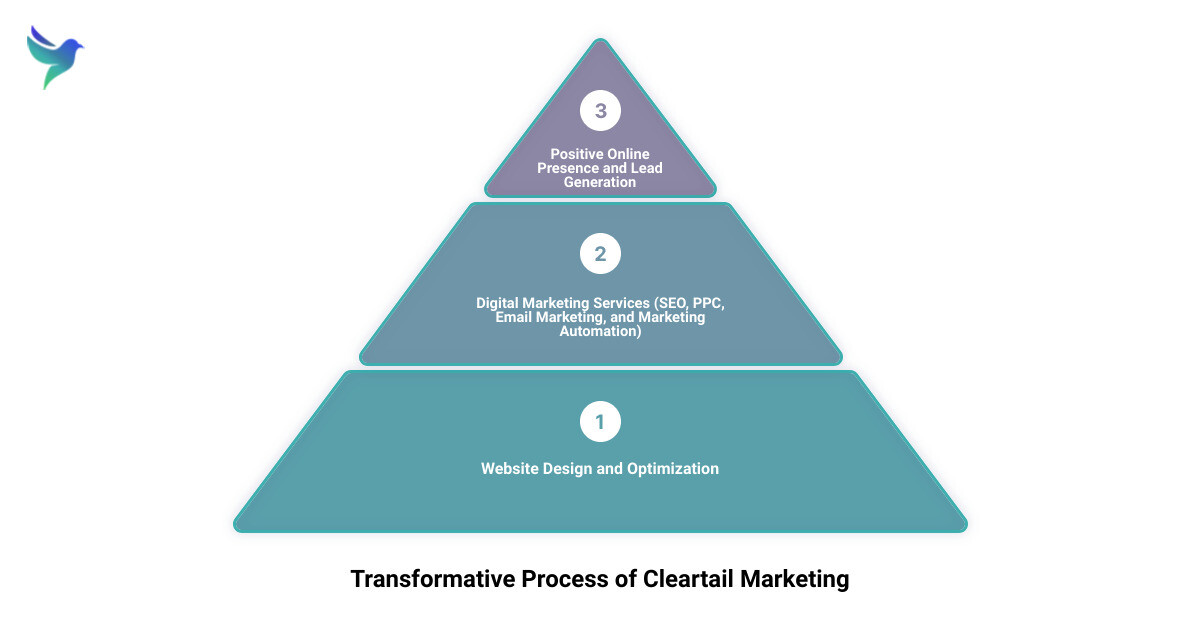 In the grand scheme, a manufacturing website is more than just a digital platform. It's a powerful marketing tool that, when designed and optimized correctly, can significantly boost your business's online visibility and lead generation. Allow us at Cleartail Marketing to handle your website revamp and watch your online presence transform into a digital powerhouse.
Conclusion: The Role of Your Manufacturing Website in the Digital Marketing Mix
A well-designed manufacturing website is not just a digital business card — it's the heart of your online marketing strategy. The right design can not only captivate your audience but also serve as a strategic tool that engages, educates, and ultimately converts your visitors into loyal customers. Your website should be a dynamic platform where customers can explore your offerings, download specific technical information, and easily reach out for personal communication.
As we at Cleartail Marketing have demonstrated, a successful manufacturing website design combines attention-grabbing content, easy navigation, downloadable technical information, gated lead-magnet resources, and accessibility to real people.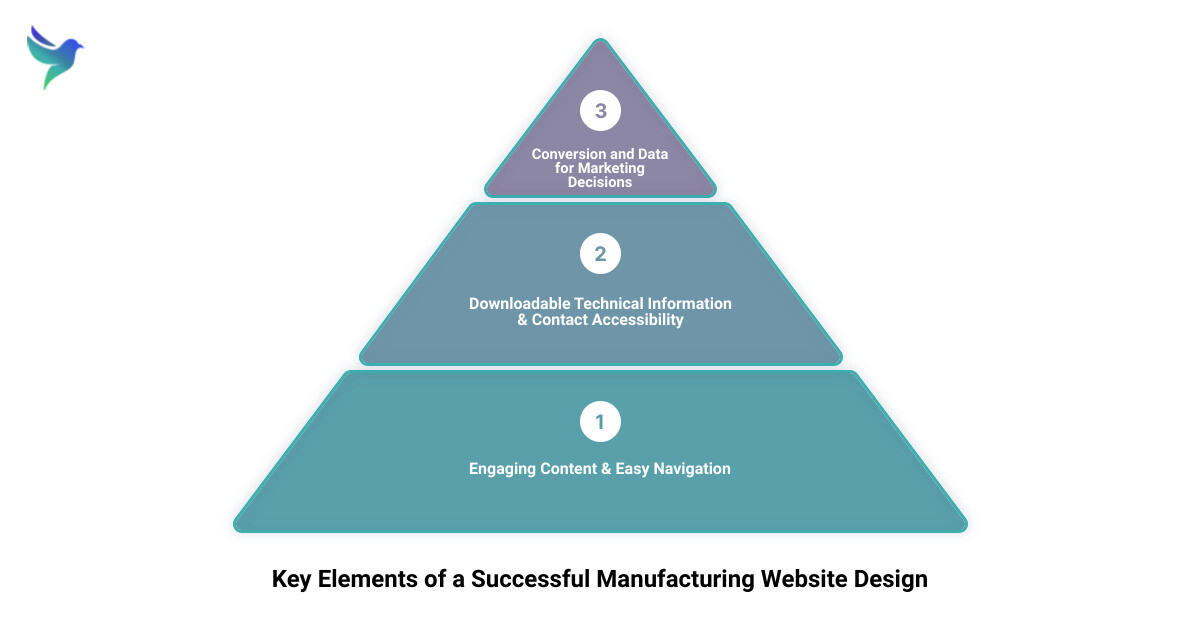 But the role of a website in the digital marketing mix does not end there. It is also a valuable source of data that can inform your marketing decisions. By tracking website analytics, businesses can gain valuable insights into website traffic, lead quality, referral sources, and engagement metrics. This data can help fine-tune marketing strategies, optimize content, and ultimately, increase conversion rates.
Remember, your website is more than a static digital presence. It's an active participant in your ongoing conversation with clients and prospects. It's the hub of your online marketing, where search engine optimization (SEO), email marketing, pay-per-click advertising (PPC), and marketing automation all converge.
At Cleartail Marketing, we understand the unique needs of manufacturing businesses and how to design a website that addresses these needs effectively. Our team is skilled in WordPress website design and development, email marketing, marketing automation, and reputation management. We are committed to delivering a professional website that clearly articulates your message to potential customers and optimizes all pages for search engines. Our ultimate goal is to ensure your online reputation truly represents your business and its offerings.
In conclusion, don't underestimate the impact that your manufacturing website can have on your business's success. By focusing on the right elements and continuously refining your web presence, you can turn your website into a powerful marketing tool that drives growth and profitability. As always, we at Cleartail Marketing are here to help you navigate this digital landscape and achieve your online marketing goals.
To learn more about our services and how we can help revamp your manufacturing website, contact us today. Together, we can create a stronger online presence that propels your business forward.