Introduction
In the fast-paced, ever-evolving world of the construction industry, standing out from the competition is no easy feat. As a business owner, you're continually grappling with the challenge of driving interest and revenue in a fiercely competitive, B2B-focused niche — the construction equipment marketing space. The challenge is even more significant given that generating leads and closing sales often involves overcoming significant inertia. However, the potential rewards are immense, with the industry projected to grow from $169.3 billion in 2020 to about $205.0 billion by 2025.
Understanding the Importance of Construction Equipment Marketing
Effective construction equipment marketing strategies can significantly reduce the time and budget cost of conversion, and in turn, boost your return on investment. This is particularly true in the digital age, where online marketing strategies like search engine optimization, paid advertising, email marketing, and content optimization play a crucial role in growing brand recognition and capturing new leads.
The Role of Digital Marketing in the Construction Equipment Industry
With the ongoing impact of the Covid-19 pandemic on traditional marketing strategies, a modern, digital-focused marketing approach is more critical than ever for long-term growth. A forward-looking construction equipment marketing plan benefits from both push and pull strategies. These strategies can be developed and executed either in-house or by hiring a specialized industrial equipment marketing company. In 2021 and beyond, internet marketing is set to become the new normal for B2B industrial retail and construction equipment commerce.
At Cleartail Marketing, we've seen firsthand how a comprehensive and strategic approach to digital marketing can dramatically enhance a company's online visibility and boost their bottom line.
Quick Facts about Construction Equipment Marketing:
Industrial manufacturing customers who engaged digitally post-purchase were 2X more likely to purchase supplementary products.
79% of industrial shoppers who are informed online make a purchase on their first in-store visit.
58% of B2B industrial manufacturer purchasers start online research with a product then follow up with a brand.
For 50% of industrial supply customers, the last point of influence is online.
Mobile drives, or influences, an average of over 40% of revenue in leading B2B organizations.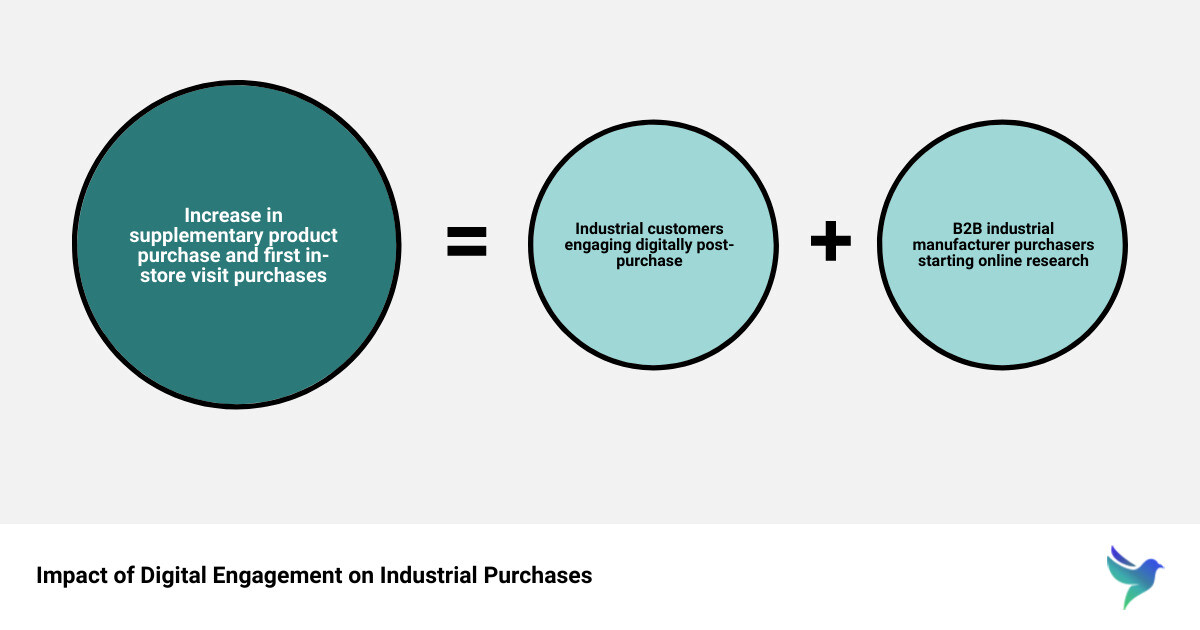 Stay tuned as we delve deeper into the essence of construction equipment marketing and uncover effective strategies and tips to help take your business to the next level.
Identifying Your Target Audience
Importance of Knowing Your Target Market
In the digital marketing realm, getting to know your target audience is like laying the foundation of a building. It's the first and most crucial step towards a successful marketing campaign. Especially when it comes to construction equipment marketing, a clear understanding of your target market is essential to ensure that your marketing efforts and budget are targeted towards the right audience, thus maximizing your return on investment (ROI).
A well-defined target market enables you to tailor your marketing messages to resonate with your potential customers, addressing their specific needs, interests, and concerns. This not only enhances the effectiveness of your marketing strategies but also helps you build trust and foster relationships with your audience.
How to Identify Your Target Audience
Identifying your target audience isn't a guessing game; it involves research, analysis, and understanding of your current and potential customers. Here are some ways to identify your target audience:
1. Analyze Your Existing Customers:
Who are your current customers? What are their common characteristics, needs, and preferences? Understanding your existing customer base can provide valuable insights into who might be interested in your construction equipment.
2. Use Google Analytics:
Google Analytics is a powerful tool for understanding who is visiting your website. It can provide detailed information about your visitors, including their location, how they found your site, what pages they viewed, and how long they stayed on each page. This data can help you understand who is interested in your products or services and tailor your marketing efforts accordingly.
3. Conduct Keyword Research:
Keyword research can help you understand what terms and phrases your potential customers are searching for online. This can give you a better idea of their interests and needs, and help you target them more effectively with your content and SEO strategies.
4. Implement Reverse IP Lookup:
Reverse IP Lookup is a powerful tool that allows you to identify businesses that are visiting your website. This can help you identify potential customers who may be interested in your products or services, and reach out to them to build relationships.
5. Use Lead Capture Forms:
Lead capture forms on your website can help you gather valuable information about your visitors, which can be used for further marketing and follow-up activities.
At Cleartail Marketing, we can assist you in identifying your target audience and developing a comprehensive digital marketing strategy tailored to your specific business needs. Our experienced team is here to help you navigate the complex world of digital marketing and achieve measurable results.
Remember, knowing your target audience is the stepping stone to a successful marketing campaign. So, take the time to understand your audience, and you'll be well on your way to boosting your construction equipment marketing efforts.
Developing a Robust and Responsive Website
When it comes to construction equipment marketing, your website is arguably your most powerful tool. It's the digital storefront of your business, the first impression many potential customers will get. A well-designed, user-friendly website can help you stand out in the competitive construction industry, attract more visitors, and convert them into customers.
The Role of a Website in Construction Equipment Marketing
Think of your website as the hub of all your online marketing efforts. It's the place where potential customers can learn more about your company, explore your products and services, and take the first steps toward making a purchase. Your website is also crucial for your SEO efforts. As WebFX points out, search engines like Google rank websites based on factors such as mobile responsiveness, loading speed, and quality of content. A well-optimized website can help you rank higher in search engine results, making it easier for potential customers to find you.
At Cleartail Marketing, we understand the pivotal role a website plays in construction equipment marketing. We specialize in designing and developing WordPress websites that are not only visually appealing but also SEO-friendly and user-friendly. We make sure your website is optimized for search engines, loads quickly, and offers a seamless user experience across all devices.
Key Features of an Effective Website for Construction Equipment Marketing
A great construction equipment marketing website should be more than just a digital brochure. It should be a dynamic, interactive platform that engages visitors and encourages them to take action. Here are some key features that every effective construction equipment marketing website should have:
User-friendly design: Your website should be easy to navigate, with a clean, professional design that reflects your brand identity. The information should be organized in a logical way, with clear, easy-to-find menus and intuitive navigation.

SEO-optimized content: As we at Cleartail Marketing often emphasize, SEO is crucial for attracting organic traffic to your website. Your website content should be optimized with relevant keywords, meta tags, and high-quality images.

Mobile optimization: More and more people are using their smartphones to browse the internet. Your website should be fully responsive, meaning it automatically adjusts to fit the screen size of any device, ensuring a seamless user experience whether your customers are using a desktop, tablet or mobile phone.

Fast loading speed: Nobody likes a slow website. Make sure your website loads quickly to provide a smooth user experience and improve your search engine rankings.

Call-to-action (CTA) buttons: These are buttons or links that encourage visitors to take a specific action, like "Contact Us," "Request a Quote," or "Buy Now." Strategic placement of CTAs can significantly improve your conversion rates.

Customer testimonials and case studies: Showcasing positive feedback from past customers can boost your credibility and persuade potential customers to choose your company.
Here at Cleartail Marketing, we strive to incorporate these features and more into every website we design and develop. We are committed to delivering WordPress websites that not only meet our clients' vision and expectations but also drive their business growth. With our expertise and resources, we ensure your website is a powerful tool in your construction equipment marketing arsenal.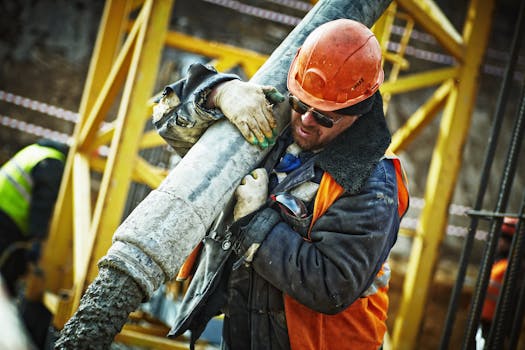 Utilizing Search Engine Optimization (SEO)
SEO, or Search Engine Optimization, is a vital tool in the digital marketing toolkit, and an absolute must when it comes to construction equipment marketing. It is the process of optimizing your website and online content to improve your rankings on search engine results pages (SERPs), making your business more visible to those who are searching for the products and services you offer.
Understanding SEO and Its Importance in Construction Equipment Marketing
As we at Cleartail Marketing often say, "If you're not on the first page of Google, you might as well be invisible." According to data, more than 32% of keyword traffic on Google goes to the top result, and up to 91.5% goes to the first page of results. This means that if your construction equipment business isn't ranking well, you're missing out on a significant amount of potential traffic and leads.
SEO is a cost-effective way to increase your online visibility and attract more potential customers. It's a strategy that focuses on attracting people who are actively searching for what you have to offer, making it more efficient and effective than many outbound marketing methods. Furthermore, SEO offers an excellent return on investment, often outperforming other marketing channels.
SEO Strategies for Construction Equipment Marketing
So, how can you use SEO to boost your construction equipment marketing efforts? Here are some best practices and strategies to follow, as recommended by our experts at Cleartail Marketing:
Keyword Optimization: Keywords play a crucial role in SEO. It's important to conduct thorough keyword research and optimize your website content with the keywords that your potential customers are likely to use when searching for the products and services you offer. Be sure to focus on the intent of the Marketing Qualified Leads (MQLs) that have landed on your site.
Quality Content: High-quality, relevant content is one of the most effective ways to improve your SEO rankings. Google's Webmaster Guidelines recommend creating a "useful, information-rich site" that accurately describes your content. This means providing detailed, informative content that is tailored to the needs of your customers.
On-page SEO: This includes optimizing elements on your website that you have control over, such as title tags, meta descriptions, and internal links. For example, title tags should be unique, accurate, and descriptive and not exceed about 60 characters. Meta descriptions, while not a ranking factor, can help improve click-through rates, so they should be concise, accurate, and include relevant keywords.
Technical SEO: This involves optimizing your site's backend, such as site performance and mobile-friendliness, to improve your search engine rankings. Make sure your website is easy to crawl and index by search engines.
Geotargeting: Knowing who your clients are and where they're coming from can help you target your marketing efforts more effectively. Use your sales data to create personalized geo-targeting maps and optimize your website accordingly.
Continuous Monitoring and Adjustments: SEO is not a one-time thing; it requires continuous monitoring and adjustments. At Cleartail Marketing, we continuously monitor Google algorithm updates and make adjustments accordingly throughout the campaign.
By implementing these strategies and more, you can start to see your construction equipment website climb up the SERPs, leading to increased visibility, more traffic, and ultimately, more leads and sales.
Implementing Pay-Per-Click (PPC) Advertising
Understanding PPC and Its Role in Construction Equipment Marketing
In a world where the heavy machinery market is rapidly moving online and toward eCommerce, the role of Pay-Per-Click (PPC) advertising in construction equipment marketing is more significant than ever. PPC advertising is a strategy where businesses pay for potential customers to click through their digital ads with interests related to their products or services. This method is particularly effective in the construction equipment industry, which largely relies on online advertisements for products like construction materials, earthmoving equipment, and heavy machinery.
PPC is a type of "push" marketing, designed to bring your brand or products to your customers. It allows you to target your most qualified prospects who are actively browsing online. This is a key benefit of PPC advertising, along with the fact that you don't have to wait for results. With PPC, you can increase traffic to your website and drive revenue quickly and effectively.
At Cleartail Marketing, we understand that as a producer or distributor of heavy machinery, finding new customers can be a challenge. That's why we recommend PPC advertising as a part of your comprehensive digital marketing strategy. It's an effective way to reach potential customers who are already interested in what you have to offer.
Tips for Effective PPC Campaigns in Construction Equipment Marketing
Implementing PPC advertising in construction equipment marketing requires strategic planning and execution. Here are some tips to help you run effective PPC campaigns:
Choose the Right Platform: Google Search ads are the most common form of PPC advertising. They deliver your ad directly in front of a person searching for a specific keyword, making it an excellent way to acquire customers ready to buy.

Target Your Ads: Refine your target buyer down to geo-location, historical online interests, age, and more. The more specific you can be, the more successful your PPC campaign will be.

Optimize Your Ad Spend: Use the advanced algorithms developed by companies like Google to optimize your advertising budget. These algorithms reference unlimited data points to ensure your campaign delivers the best return on investment.

Use Both Search and Display Ads: While search advertising targets potential customers when they are in the act of searching for keywords within a search engine, display advertising appears like banners or image ads on third-party partner sites. Both can be effective in driving traffic and sales.

Monitor and Adjust Your Campaign: Keep a close eye on your PPC campaign, making adjustments as necessary to maximize results. At Cleartail Marketing, we offer continuous monitoring and adjustments as part of our PPC services, ensuring your campaign is always optimized for success.
PPC advertising is a powerful tool in construction equipment marketing, and when used effectively, it can significantly boost your online visibility and sales. By understanding how PPC works and implementing these tips, you can harness the full potential of PPC advertising in your marketing strategy.
Adopting Content Marketing Strategies
Now that we've discussed the power of PPC, let's delve into another indispensable tool in your construction equipment marketing arsenal – content marketing. Content marketing is all about creating and sharing valuable, relevant, and consistent content to attract and engage your target audience. This can significantly boost your brand awareness, customer engagement, and lead generation efforts.
The Role of Content Marketing in Construction Equipment Marketing
Content marketing is the backbone of any successful digital marketing strategy. It's a way of connecting with your customers beyond the hard sell, establishing your brand as a trusted source of information, and ultimately guiding your audience towards making a purchase.
At Cleartail Marketing, we believe that effective content marketing is about more than just churning out blog posts – it's about telling your brand's story, showcasing the benefits of your construction equipment, and providing value to your audience.
As mentioned on nine.is, compelling content can be a powerful way to demonstrate your construction equipment in action, show customers the real-world benefits of your products, and even compare your equipment to competitors'. This kind of content not only informs and engages your audience, but it also helps to position your brand as a leader in the construction equipment market.
Types of Content Marketing Strategies for Construction Equipment Marketing
When it comes to content marketing, there's no one-size-fits-all approach. However, here are some strategies that can help elevate your construction equipment marketing efforts:
1. Blogging: Regularly publishing informative blog posts on your website can help attract organic traffic, build brand authority, and generate leads. Topics can range from how-to guides and product reviews, to industry trends and case studies.
2. Social Media Content: Social media is a fantastic platform for sharing engaging content, such as videos of your equipment in action, customer testimonials, or behind-the-scenes peeks at your operations. As advised in our social media content guide, planning and scheduling your social media content in advance using marketing automation software can save time and ensure a consistent posting schedule.
3. Email Marketing: Sending out regular newsletters with valuable content can keep your brand top of mind for your audience. As nine.is suggests, including news about your community or industry can add value and interest to your emails.
4. SEO Content Writing: As detailed in our SEO content writing guide, strategically incorporating keywords into your content can boost your search engine rankings and visibility.
5. Visual Content: High-quality images and videos can be incredibly impactful in showcasing your construction equipment. These can be shared across your website, social media platforms, and email marketing campaigns.
At Cleartail Marketing, we can help you craft a tailored content marketing strategy that resonates with your target audience and drives your construction equipment marketing efforts to new heights.
Leveraging Social Media Platforms
Social media platforms aren't just for sharing cat videos and vacation photos anymore. They've evolved into powerful marketing tools that businesses can use to reach a wider audience and drive growth.
Importance of Social Media in Construction Equipment Marketing
In the realm of construction equipment marketing, social media platforms can play a pivotal role in helping you build a solid digital presence. They offer an avenue to showcase your construction equipment in action, engage with your audience, and generate leads.
As per research from The Complete Guide To Heavy Equipment Marketing, social media advertising, when executed with the right strategy, can be a highly effective way to reach new customers. Paid advertising on these platforms allows you to target your specific audience with ads that appear in their social media feeds.
Additionally, social media platforms let brands expand their existing content and boost impressions/shares for their on-site content. They're crucial in driving marketing qualified leads (MQLs) and engaging customers along the conversion funnel.
Effective Social Media Strategies for Construction Equipment Marketing
Here at Cleartail Marketing, we've identified several strategies that can amplify your presence on social media platforms:
Showcase Your Equipment in Action: Sharing videos of your construction equipment at work can be a simple yet engaging way to produce content. Encourage your customers to record videos while they use your equipment and share them on your profile. Remember to include captions on your posts as construction machinery can be loud.
Employee Engagement: Ask your employees to share your social media posts when they feature in the content. This strategy can help increase your reach and engagement.
Leverage Short-form Posts: Short-form posts are easily consumable and shareable. They can help keep your audience engaged and boost your social media presence.
Cross-promotion: Partner with other local businesses to develop cross-promoted social media content. This strategy can help you reach a new set of audiences.
Use Social Media Advertising: Social media advertising can help you reach a wider audience. Platforms like Facebook offer lead generation forms that capture customer information without them having to leave the app. This can be an efficient way to generate leads.
Utilize a Social Media Content Calendar: Planning your content in advance and scheduling them to go out at optimal times can save you a lot of time and effort. At Cleartail Marketing, we can guide you on how to create a social media content calendar using marketing automation software.
Remember, the key to effective social media marketing is consistency. Regularly posting engaging and valuable content can go a long way in building a robust online presence for your construction equipment business.
As experts in construction equipment marketing, we at Cleartail Marketing are here to help you leverage social media platforms to their fullest potential. Our comprehensive digital marketing strategies are designed to help you connect with your target audience, generate leads, and grow your business.
Utilizing Email Marketing
When it comes to marketing your construction equipment, one channel that is often overlooked but holds immense potential is email marketing. Email marketing is not just about sending promotional messages or newsletters to an email list. It's a powerful tool that can help you build relationships, increase brand awareness, and ultimately drive more sales for your construction equipment business.
Understanding the Role of Email Marketing in Construction Equipment Marketing
Contrary to some beliefs, email marketing is not dead. In fact, it's thriving and continues to offer an effective way to reach and engage your audience. According to Cleartail Marketing, customers who receive newsletters purchase 3-4 times more than those who do not receive these emails. Thus, email marketing plays a crucial role in both customer retention and acquisition for construction equipment businesses.
Moreover, email marketing allows you to segment your audience and tailor your message to specific groups, making your marketing efforts more personalized and effective. Whether you're launching a new piece of heavy machinery, offering a special discount, or sharing valuable content like guides and tutorials, email marketing is a direct and cost-effective way to reach your audience.
Tips for Effective Email Marketing in Construction Equipment Marketing
1. Define Your Target Audience: The first step in effective email marketing is knowing who your audience is. Understanding your audience's needs, interests, and challenges will allow you to create content that resonates with them and drives engagement.
2. Craft Compelling Content: Your emails should be informative, valuable, and engaging. Consider sharing industry news, how-to guides, case studies, or even customer testimonials to keep your audience engaged and position your business as a trusted expert in the construction equipment industry.
3. Use Personalization: Personalization can significantly increase email open rates and engagement. This could be as simple as using the recipient's name in the email or as complex as tailoring the content based on their purchase history or behavior.
4. Test and Optimize: Always be testing. This could involve A/B testing different subject lines, email designs, or calls to action to see what resonates best with your audience. Use these insights to continually optimize your email marketing efforts.
5. Comply with Email Marketing Laws: It's crucial to ensure your email marketing practices comply with relevant laws, such as the CAN-SPAM Act in the U.S. or GDPR in Europe. This includes providing a clear way for recipients to opt-out of your emails and honoring these requests promptly.
At Cleartail Marketing, we specialize in creating effective email marketing campaigns for construction equipment businesses. From defining your target audience and crafting compelling content, to testing and optimizing your campaigns, we are here to help you maximize the potential of email marketing and drive growth for your business.
Conclusion
Recap of Effective Construction Equipment Marketing Strategies
In order to effectively market construction equipment, it's important to take a holistic approach. Our journey began with identifying your target audience, because knowing who your customers are is the foundation of any successful marketing strategy. We then delved into the importance of having a robust and responsive website, as it serves as your online storefront and is often the first point of contact for potential customers.
We discussed the critical role of Search Engine Optimization (SEO) in making your website and content discoverable. Pay-Per-Click (PPC) advertising was also highlighted as a technique for increasing visibility and driving targeted traffic to your website.
The power of content marketing was underscored, with an emphasis on creating valuable, relevant, and engaging content that resonates with your audience. Also, we explored how social media platforms can be leveraged to connect with your audience, build relationships, and promote your products.
Lastly, we looked into email marketing as an effective strategy for maintaining and nurturing relationships with customers and prospects, offering an excellent platform for direct communication and personalization.
The Future of Construction Equipment Marketing
The future of construction equipment marketing is exciting and promising. Digital marketing strategies will continue to evolve and advance, offering new ways to reach and engage with target audiences. Artificial Intelligence (AI) and machine learning will likely play a more significant role in helping businesses analyze user behavior and personalize marketing messages.
The use of virtual and augmented reality in showcasing and demonstrating construction equipment could become more prevalent, providing customers with immersive experiences. Furthermore, the importance of sustainability in the construction industry will influence marketing strategies, with more emphasis on promoting eco-friendly equipment and practices.
In this rapidly changing digital landscape, staying ahead of trends and adapting to new technologies and strategies will be key. At Cleartail Marketing, we have the expertise and resources to help you navigate these changes and ensure your construction equipment marketing strategy is robust, forward-looking, and effective.
As we progress into this exciting future, remember, success in construction equipment marketing doesn't happen overnight. It requires a clear strategy, ongoing effort, and regular evaluation and adjustment. But with the right approach and the right partner, you can boost your marketing efforts and achieve your business goals.
At Cleartail Marketing, we're ready to embark on this journey with you. Our team of experts is committed to helping you succeed in the dynamic realm of construction equipment marketing. So, are you ready to boost your construction equipment marketing? Let's start building your success story together!