In the highly competitive world of business, industrial marketing has emerged as a vital component in the success and growth of manufacturing and distribution companies. With the rise of digital technologies and the evolving needs of tech-savvy buyers, the landscape of industrial marketing is changing rapidly. This requires companies to keep up-to-date with the latest trends and strategies, and more importantly, to partner with an experienced and specialized industrial marketing company like Cleartail Marketing.
Industrial and manufacturing companies are at a crossroads, transitioning from traditional selling methods to internet marketing. This shift is fueled by younger, digitally-native buyers who start their purchasing journeys with internet research and are immune to traditional marketing tactics like cold calling and tradeshow lead generation. This new wave of buyers is looking for more than just product benefits; they are seeking transparent relationships and authentic connections with brands, something that a specialized industrial marketing company can provide.
In this article, we will delve into the changing landscape of industrial marketing and how Cleartail Marketing, a top-rated industrial marketing company, can help revolutionize your marketing strategy. We will explore the shift from traditional to digital marketing in the industrial sector, the role of an industrial marketing company in modern marketing strategies, and the unique offerings and proven results of Cleartail Marketing. We will also provide a glimpse into successful industrial marketing strategies through case studies. If you're ready to level up your industrial marketing game, read on.
The Shift from Traditional to Digital Marketing in the Industrial Sector
For decades, industrial marketing revolved around three simple elements: trade show lead generation, cold calling sales, and networking/relationship selling. However, with the rise of the digital era, a shift is taking place in the industrial sector, moving away from these traditional marketing techniques towards more modern, digital strategies.
The Ineffectiveness of Traditional Marketing Techniques in the Manufacturing Industry
Traditional marketing techniques such as cold calling and networking are becoming increasingly ineffective in the modern industrial and manufacturing landscape. This is because these methods often lack the ability to engage and connect with the tech-savvy consumers of today. They are perceived as intrusive and pushy, which can lead to a negative impression of the brand.
Moreover, the increasing competition in the industrial sector means that companies are no longer able to differentiate themselves solely on the basis of product benefits. As pointed out by Elevation B2B, manufacturers that continue to rely solely on product benefits as their selling point are likely to be drowned out by the marketing noise and lose out to competitors who understand and adapt to the changing customer purchasing behaviors.
The Rise of Tech-Savvy Buyers and Their Impact on Industrial Marketing
The new generation of tech-savvy buyers has greatly influenced the shift from traditional to digital marketing in the industrial sector. These consumers are accustomed to finding and comparing products online, often carrying out extensive internet research before making a purchase decision.
They value transparency, authenticity, and a strong brand narrative over sales-speak and networking. They want to know not just what your product can do, but how your company aligns with their values and impacts people's lives.
This new consumer behavior has led to the rise of "human connection" marketing, which emphasizes the importance of building authentic relationships with customers and providing them with a reason to connect with your brand beyond the product benefits.
The Importance of Internet Research in the Purchasing Journey of Today's Customers
In today's digital world, internet research plays a crucial role in the purchasing journey of customers. It is often the first step consumers take when considering a product or service, and it provides them with unbiased information that they can use to compare different options.
This shift in consumer behavior underscores the importance of having a strong online presence for industrial companies. Having a well-designed website, engaging content, and a solid SEO strategy is no longer optional; it's a necessity. As Windmill Strategy highlights, all roads in effective industrial marketing lead back to your website.
It's clear that the landscape of industrial marketing is changing rapidly. Companies that can adapt to these changes and leverage the power of digital marketing will be best positioned to succeed in the modern industrial sector.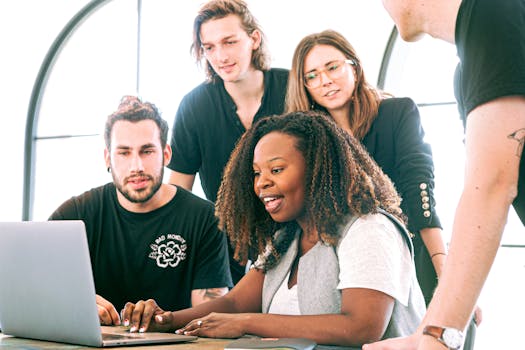 The Role of an Industrial Marketing Company in Modern Marketing Strategies
In the rapidly evolving world of industrial marketing, the role of a specialist industrial marketing company is more crucial than ever. An industrial marketing company can bridge the gap between traditional and digital marketing strategies, leveraging its deep understanding of industry-specific audience needs and market trends to create powerful, results-driven marketing campaigns.
Understanding the Specific Audience and Market Research
When it comes to industrial marketing, one-size-fits-all approaches are insufficient. Each industry has its unique set of challenges and opportunities, and the buyer personas within each sector have specific needs and pain points. For example, the decision-makers in the manufacturing industry may be more concerned with product reliability and cost-effectiveness, while those in the technology sector might prioritize innovation and scalability.
Understanding these nuances requires thorough market research and an intimate understanding of the target audience. As Elevation B2B notes, an effective strategy must be anchored by in-depth market research and an intimate understanding of your specific audience.
Building Transparent Relationships and Authentic Connections with Customers
In the era of tech-savvy buyers, building authentic connections with customers is critical. Today's consumers are not just interested in the product benefits; they want to connect with the brand on a deeper, more personal level. An industrial marketing company can help businesses build transparent relationships with their customers by crafting brand narratives that resonate with them on an emotional level.
This is what Elevation B2B refers to as "human connection" marketing. In this form of marketing, it's not just about selling the product's benefits. It's about showing customers why they should care about your brand and how your product impacts people.
The Value of Specialized Industrial and Manufacturing Marketing Services
Partnering with a specialized industrial marketing company can provide immense value for businesses in the industrial sector. These companies have the expertise and resources to deliver comprehensive services tailored to the unique needs of industrial businesses. They can provide everything from web design and development to digital marketing, ABM, and analytics, as stated by Windmill Strategy.
For instance, Cleartail Marketing offers professional email marketing services where they write, design, and deliver email marketing campaigns to help clients win new customers and increase sales.
By leveraging the specialized services of an industrial marketing company, businesses can optimize their marketing efforts, reach their target audience more effectively, and ultimately drive more sales and growth.
Cleartail Marketing: A Top-Rated Industrial Marketing Company
In the vast ocean of digital marketing agencies, Cleartail Marketing stands like a beacon, a top-rated company that specializes in helping B2B companies revolutionize their marketing strategies and accelerate their growth.
Overview of Cleartail Marketing and Its Unique Selling Proposition
Established in 2014, Cleartail Marketing has distinguished itself as a seasoned player in the digital marketing space, with a particular focus on B2B companies looking to enhance their online presence. The Cleartail team prides itself on being not just an agency, but a discerning partner that takes on the role of a Chief Marketing Officer and full-fledged marketing department for its clients. This unique approach means that businesses can rely on Cleartail to develop and execute a comprehensive marketing strategy that aligns with their objectives, leaving them free to focus on delivering top-notch products and services to their customers.
The Range of Services Offered by Cleartail Marketing
At Cleartail Marketing, the service offering is as diverse as it is comprehensive. The agency provides a full suite of digital marketing services, including Search Engine Optimization (SEO), Pay-Per-Click (PPC) Advertising, Website Design and Development, Email Marketing, and Marketing Automation. This wide array of services allows Cleartail to offer highly customized solutions tailored to the unique needs of each client. Whether a business is seeking to boost its organic search rankings, launch a targeted advertising campaign, overhaul its website, or automate its marketing efforts, Cleartail Marketing has the expertise to make it happen.
Proven Results and Client Relationships at Cleartail Marketing
But what really sets Cleartail Marketing apart is not just its range of services, but the impressive results it consistently delivers for its clients. Cleartail's success stories span various industries and business sizes, including companies that have recorded staggering sales growth of up to 278% within a single year. A quick glance at the agency's portfolio reveals a multitude of satisfied clients who vouch for the transformative impact that Cleartail's marketing strategies have had on their businesses.
The relationship between Cleartail and its clients is built on a solid foundation of trust, mutual respect, and open communication. The agency is committed to being as knowledgeable as an in-house employee, ensuring that they fully understand each client's needs, and they pride themselves on their quick response times and clear, easy-to-understand campaign reporting.
In conclusion, if you are a business owner looking to boost your online presence, increase your sales, and revolutionize your marketing strategy, Cleartail Marketing is a top-rated industrial marketing company that has the skills, experience, and proven track record to help you achieve your goals.
Case Studies: Successful Industrial Marketing Strategies
If you're still wondering how Cleartail Marketing can help you revolutionize your industrial marketing strategy, these case studies will provide you with some real-life examples of our success. We've assisted businesses in various industrial sectors, from manufacturing to distribution, and even workforce recruitment.
Case Study 1: Branding and Modernizing a Manufacturing Company
Branding and modernization are crucial for any manufacturing company aiming to stay competitive in today's digital era. A good example of our work in this area involves Duroair Technologies.
This leading North American, industrial clean air solutions provider was seeking to update their brand and modernize their online presence. We helped them with a new industrial website design and implemented a strategic, integrated approach that resulted in a whopping 200% year-on-year revenue growth. This case study showcases our ability to understand the specific needs of our clients and tailor marketing strategies that deliver remarkable results.
Case Study 2: Growing a Distribution Company through Integrated Marketing
Distribution companies face unique challenges, especially when it comes to B2B marketing. One such company we worked with was Southern Metal Fabricators.
Our team transformed their online presence through industrial website development, which became a successful lead generation tool for their business. This case study demonstrates our expertise in integrated marketing, combining SEO, content marketing, and design, to achieve significant growth for our clients.
Case Study 3: Workforce Recruitment in the Industrial Sector through Lead Generation
Workforce recruitment is another area where we've made a significant impact. In this case, our client was Hennessy Services Network. They needed to streamline their recruitment process and attract more qualified job applicants.
In just 30 days, we launched their workforce recruitment program, resulting in 100% more qualified job applicants. This highlights our ability to deliver fast, efficient solutions that meet our clients' business objectives.
These case studies are just a snapshot of the successful industrial marketing strategies we have implemented. Cleartail Marketing is committed to providing top-rated services that drive real growth and success for our clients in the industrial sector.
How to Engage with an Industrial Marketing Company
So, you've seen what a specialized industrial marketing company can do. Ready to revolutionize your own marketing strategy? Engaging with a company like Cleartail Marketing can be the game-changer you've been looking for. Here's how to get started.
Engagement Options with Cleartail Marketing
At Cleartail Marketing, we understand that each business, like its owner, is unique. That's why we offer several engagement options tailored to your specific needs. Whether you need comprehensive, all-encompassing support or just want to tackle a specific project, we've got you covered.
Agency of Record: This option is ideal for industrials that demand the full attention, capabilities, and expertise of an industrial marketing agency. It's like having your very own marketing department, but without the overhead costs.

Structured Solutions: If you're an industrial business lacking the time and resources to stay connected with customers, our monthly programs are the perfect fit. We handle your marketing so you can focus on what you do best – running your business.

Project Basis: For industrials that have a project demanding the best in strategy and execution, we offer services on a project basis. From SEO optimization to email marketing campaigns, our team is ready to deliver.
Each engagement mode is designed to provide you with the level of support you need to meet your marketing goals, whether that's increasing visibility, driving leads, or automating back-office functions.
Accessing Resources and Insights from Cleartail Marketing
But engagement with Cleartail Marketing isn't just about hiring us for a service. We believe in empowering our clients with knowledge and insights to help them make informed decisions about their marketing strategies.
Stay Connected: Sign up for our email newsletter to get the latest updates and industrial marketing insights right in your inbox. We promise not to spam you, but to provide you with valuable content that can help improve your marketing efforts.
Learn More: Visit our resources page to access a wealth of information on various topics, from SEO to email marketing. You can download free eBooks, read through our case studies, and even watch video testimonials from satisfied clients.
By engaging with Cleartail Marketing, you're not just hiring a marketing agency, you're partnering with a team of experts committed to your success. We're here to help you navigate the complexities of industrial marketing and drive significant growth for your business. So, are you ready to revolutionize your industrial marketing strategy with a top-rated company?
Conclusion: The Future of Industrial Marketing with a Top-Rated Company
As we hurtle into the future, the landscape of industrial marketing continues to evolve. Traditional marketing techniques are giving way to a more digital, tech-savvy approach that prioritizes authentic connections and a deep understanding of the specific audience. This shift has underscored the importance of partnering with an industrial marketing company that not only grasps these changes but is also agile enough to adapt and capitalize on them.
Cleartail Marketing is just such a company. With a wealth of experience, a comprehensive suite of services, and a proven track record of delivering measurable results, Cleartail Marketing is well-equipped to guide your business through the complex terrain of industrial marketing. Our approach is rooted in market research, audience understanding, and the creation of transparent, meaningful relationships with customers. We don't just want to sell your product; we aim to tell your brand's story, connect with your audience on a deeper level, and ultimately, drive revenue growth for your business.
The future of industrial marketing is here. It's digital, it's customer-centric, and it's about building authentic connections. Traditional marketing methods are becoming less effective, and businesses need to adapt to stay competitive. With Cleartail Marketing, you're not just keeping pace with these changes; you're staying ahead.
Our successful case studies demonstrate the effectiveness of our approach, and we're always ready to take on new challenges. Whether you're looking to modernize your brand, grow your distribution company, or recruit workforce in the industrial sector, Cleartail Marketing has the expertise and strategies to achieve your goals.
Engaging with us is simple and straightforward. We offer a range of customizable services, and our team of experts is always ready to provide insights and resources to help you make informed decisions.
The future of industrial marketing is bright, especially when you have a top-rated company like Cleartail Marketing by your side. So, are you ready to take your industrial marketing strategy to the next level? Let's navigate the future together, creating success stories one business at a time.