Navigating the world of manufacturing is complex — juggling operations, logistics, supply chain issues, and customer demands. The last thing a busy manufacturer needs to worry about is their website's performance. This is where manufacturing SEO services enter the picture, promising to amplify online exposure and generate quality leads. As the seasoned professionals at Cleartail Marketing, we've seen firsthand the dramatic difference a tailored SEO strategy can make for manufacturers.
SEO, or Search Engine Optimization, is a key digital marketing method that manufacturing companies can leverage to attract in-market buyers. By implementing specific tactics like keyword optimization, your website can appear on the first page of Google's search engine results. This not only puts you ahead of your competitors, but also drives more traffic to your website.
Let's explore why investing in SEO is a game-changer and why you might want to consider SEO services for your manufacturing company:
Lead Generation: SEO delivers ready-to-buy leads to your business — an efficient method for sales generation.
Cost Effectiveness: Unlike paid advertising, SEO generates free traffic to your site once you secure a top ranking.
Higher ROI: A properly executed SEO strategy brings in more targeted traffic, leading to higher sales and conversions. The return on investment for SEO is usually higher than other marketing channels.
Competitive Edge: If your competitors are not investing in SEO, you have an excellent opportunity to get ahead with a smaller investment.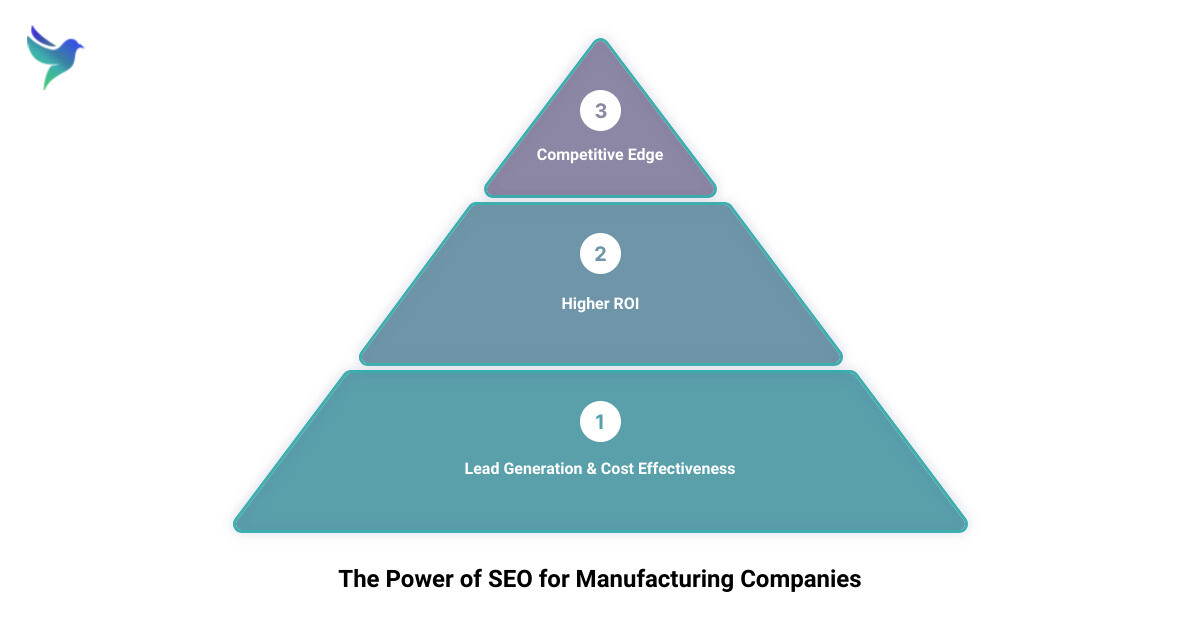 Through our proven track record at Cleartail Marketing, we've illustrated how partnering with the right SEO agency can bring prominent success to manufacturing companies in the digital landscape. Stay with us as we delve deeper into the beneficial specifics of manufacturing SEO services and how they can boost your manufacturing business in terms of visibility, leads, and revenue.
Understanding Manufacturing SEO
What is Manufacturing SEO?
Let's begin by understanding what Manufacturing SEO is. Manufacturing SEO is the process of optimizing a manufacturing company's website to attract quality traffic with the intention of converting that traffic into a lead. Despite being industry-specific, the tactics used in manufacturing SEO don't differ significantly from those employed in other industries. The goal is to make your website as search-engine-friendly as possible by focusing on three main areas: website structure, website code, and content.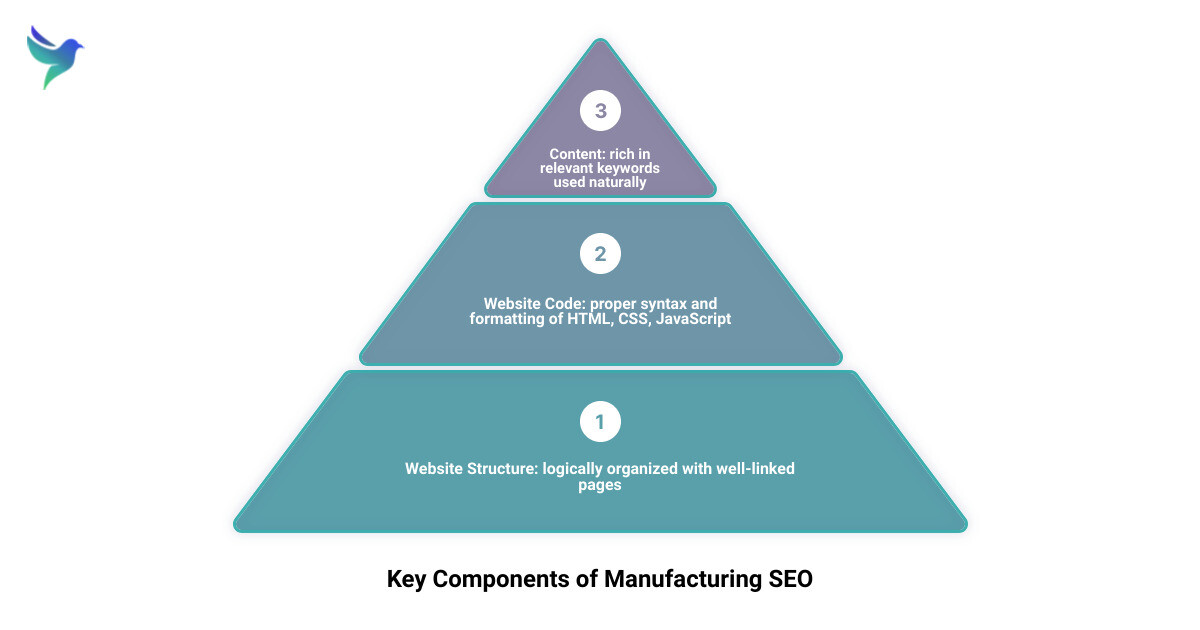 In terms of structure, your website needs to be logically organized with well-linked pages. This makes it easier for search engine crawlers to index your site and improve your rankings on search engine results pages (SERPs).
The website code, including HTML, CSS, and JavaScript, should adhere to the proper syntax and formatting. This not only makes your site more readable for search engine crawlers but also enhances user experience.
Lastly, your content should be rich in keywords that your target audience is likely to use when searching for your products or services. However, remember to use keywords sparingly and naturally throughout your website, including in page titles, headings, and body text.
Why is SEO Crucial for Manufacturers?
Now that we understand what manufacturing SEO is, let's delve into why it is so crucial for manufacturers. In today's digital age, many in-market buyers use search engines like Google to find manufacturers they can partner with. Therefore, having a strong online presence is no longer a luxury but a necessity for manufacturers.
SEO plays a crucial role in this, helping manufacturers increase their visibility and attract potential buyers. Manufacturing SEO can help your website appear on the first page of Google for keywords that mean the most to your business. This increased visibility can drive more traffic to your website, ultimately leading to more leads and sales.
Moreover, SEO can give you an edge over your competitors. As more and more industrial leaders adopt SEO tactics, staying ahead of the curve can be the difference between attracting in-market buyers to your website or losing them to your competitors.
At Cleartail Marketing, we understand the importance of SEO in the manufacturing industry. With our expertise in manufacturing SEO, we help our clients stay ahead of their competitors and drive more traffic to their websites. We focus on optimizing the three critical components of SEO – website structure, website code, and content – to ensure your website is as search-engine-friendly as possible.
In the next section, we'll explore the types of SEO services beneficial for manufacturing businesses, and how they can further drive your success in the digital marketplace.
Types of SEO Services Beneficial for Manufacturing Businesses
Boosting your online presence and driving organic traffic to your manufacturing website is a multifaceted endeavor. It's not just about keyword research or meta descriptions – it's about a comprehensive approach that includes various types of SEO services. Here at Cleartail Marketing, we've identified three main types of SEO services that can offer immense benefits to manufacturing businesses: On-Page SEO, Off-Page SEO, and Technical SEO.
On-Page SEO for Manufacturers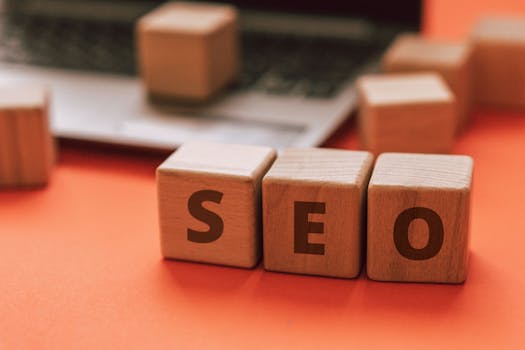 On-Page SEO involves optimizing individual web pages on your site to rank higher and attract more relevant traffic in search engines. This includes everything from the content of the page to the HTML source code. As detailed on our On-Page SEO guide, elements such as title tags, meta descriptions, and header tags play a crucial role in this optimization process.
For example, title tags are the text that appears in search engine results pages (SERPs) when your website comes up. It should be easy to read and include your target keyword. The meta description, which is a short paragraph of text appearing under your title tag on the SERPs, should further elaborate on what your website is about.
Implementing effective On-Page SEO can significantly increase your website's visibility and lead to higher quality traffic – potential customers who are ready to buy your products or services.
Off-Page SEO for Manufacturers
Off-Page SEO refers to actions taken outside of your website to impact your SERP rankings. This includes tactics like building high-quality backlinks from reputable websites, social media marketing, and influencer marketing.
Off-Page SEO helps improve your website's reputation and authority, which can significantly influence your rankings in SERPs. A well-executed Off-Page SEO strategy can create a positive perception of your brand among potential customers, leading to increased traffic and conversions.
Technical SEO for Manufacturers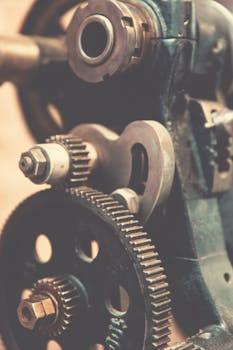 As discussed in our Technical SEO guide, Technical SEO refers to the process of optimizing your website for the crawling and indexing phase of search engines. It includes elements like site speed, mobile-friendliness, site architecture, and XML sitemaps.
Google and other search engines use crawlers to explore your website and index your pages. If your website is not technically sound, it can hinder this process and negatively impact your search engine rankings.
Technical SEO ensures that search engines can easily crawl and index your website, leading to better visibility in search results. It might sound complicated, but with the right tools and expertise, it can be a game-changer for your manufacturing business.
At Cleartail Marketing, we understand that each of these SEO services plays a unique role in driving your manufacturing business's online success. Our team of experts is here to assist you in implementing and managing these strategies, ensuring your website ranks higher, attracts quality traffic, and leads to increased sales and growth.
Cost of SEO Services for Manufacturing Businesses
Do you know that old saying, "You have to spend money to make money"? It couldn't be more accurate when it comes to investing in SEO for your manufacturing business. But don't let the upfront costs scare you. The returns on this investment are worth every penny.
Average Monthly Cost of SEO Services
So, how much does SEO for manufacturing businesses cost? The answer is not as straightforward as you might think. The price range varies widely, typically falling between $500 to $10,000 per month. This broad spectrum is because SEO isn't a one-size-fits-all service. The cost depends on various factors, including the size of your business, your specific goals, and the competition level in your industry.
For large-scale SEO projects, companies typically spend between $1,500 and $5,000 per month. If you own a small business, you should consider investing at least $500 per month on SEO services to see noticeable results.
Factors Influencing the Cost of SEO Services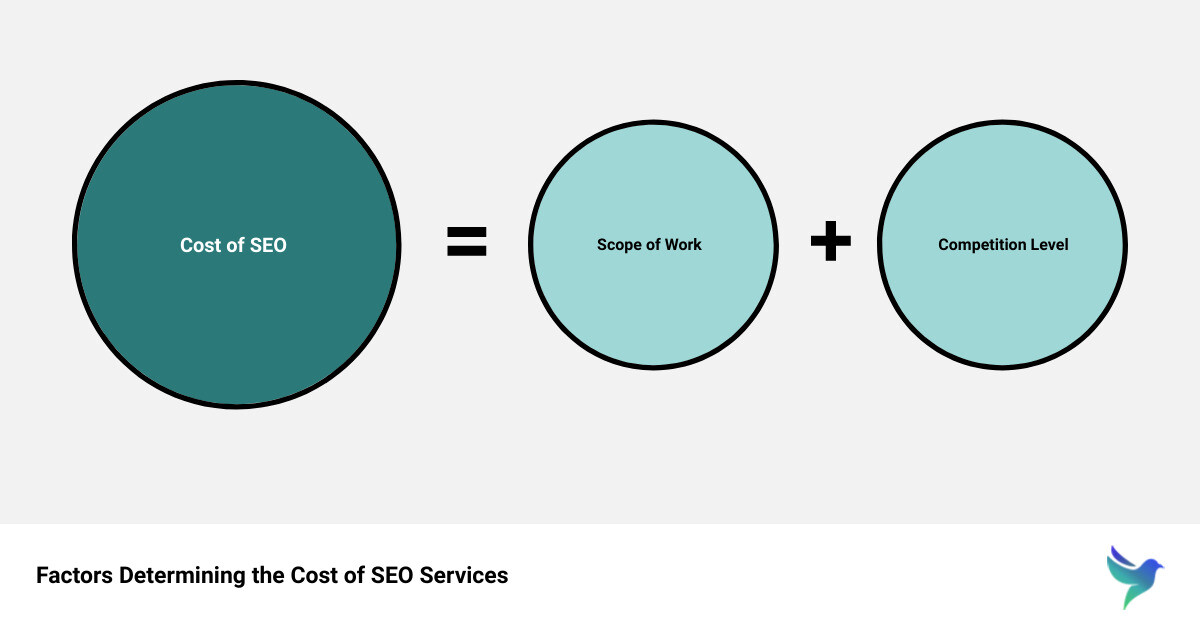 At Cleartail Marketing, we believe in transparency and fairness in pricing. Our cost of SEO services depends on several key factors:
Scope of Work: The breadth and depth of the SEO work required to meet your goals influence the cost. For instance, if you're starting from scratch and need assistance with keyword research and on-page optimization, the cost will be lower than if you're looking for a comprehensive SEO strategy that includes link building, brand reputation management, content writing, and webpage design and development.

Competition: The level of competition in your specific manufacturing niche also plays a role in determining the cost. If your competitors have robust SEO strategies in place, you might need to invest more to outshine them.

Current SEO Health: If your website is already somewhat optimized and just needs some improvements, the cost will be lower than if your site requires a complete SEO overhaul.

Target Market: The broader your target market, the more intense the SEO efforts needed to reach your audience, which can impact the cost.
Our team at Cleartail Marketing is dedicated to providing you with a clear understanding of the cost of services. We'll work with you to develop a customized SEO strategy for your manufacturing business that fits within your budget while delivering significant ROI.
Remember, SEO is not a cost but an investment. By spending wisely on SEO services now, you're setting your manufacturing business up for long-term success in the digital marketplace. Let us help you boost your online visibility, attract quality traffic, and convert leads into loyal customers. Contact us today to get a quote tailored to your specific needs.
What Do SEO Services for Manufacturing Businesses Include?
Now that you're aware of the costs associated with manufacturing SEO services, you might be wondering what these services entail. As a leading digital marketing agency, we at Cleartail Marketing have a comprehensive suite of SEO services designed to propel your manufacturing business to new heights. Let's delve in and explore what these services include.
Keyword Strategy for Manufacturing Businesses
In the world of SEO, keywords are the currency. They are how potential customers find your business online. Therefore, an effective SEO strategy begins with a comprehensive keyword analysis. At Cleartail Marketing, we conduct thorough keyword research to identify the most relevant and high-performing keywords in your industry. Our experts then craft a robust strategy around these keywords, ensuring your business is easily discoverable by prospective clients who are searching for the products or services that you offer.
Content Strategy for Manufacturing Businesses
Content is king in the digital world. High-quality, informative, and keyword-rich content not only helps improve your website's ranking in search engine results but also engages and educates your visitors, turning them into potential leads. Our team of experienced writers and editors work closely with you to create compelling web copy, blog posts, case studies, and more that reflect your business and industry.
Site Audits for Manufacturing Businesses
Site audits are crucial in identifying any issues that may be hampering your website's performance. We use advanced tools such as Google Search Console and Screaming Frog to thoroughly analyze your site, identify any technical issues, and make necessary improvements. Our aim is to ensure your website is in optimal health for better visibility and improved rankings.
On-Page and Off-Page Optimization for Manufacturing Businesses
On-page SEO involves optimizing each web page on your site for relevant industry keywords. This includes optimizing meta tags, image tags, and content to make it easy for search engines to understand what your page is about. Off-page SEO, on the other hand, involves building high-quality backlinks from other reputable websites to boost your site's authority and credibility. Our manufacturing SEO services encompass both these aspects, ensuring your website ranks high for targeted keywords.
Content Development for Manufacturing Businesses
As mentioned earlier, high-quality content is fundamental to a successful SEO strategy. Our team of professional writers and editors have the skills and expertise to create engaging, SEO-optimized content tailored to your manufacturing business. Whether you need new web page copy, informative blog posts, or in-depth case studies, we've got you covered.
Competitor Analysis for Manufacturing Businesses
Competitor analysis is a critical part of any SEO strategy. By understanding what your competitors are doing right (and wrong), you can fine-tune your own strategy to outperform them. Our team uses advanced tools such as Ahrefs to analyze your competitors' strategies, identify gaps in your own approach, and devise a game plan that gives you a competitive edge.
Remember, investing in top-notch SEO services is not an expense, but an investment in the future success of your manufacturing business. At Cleartail Marketing, we're dedicated to helping you boost your online presence, attract qualified leads, and ultimately, increase sales. Contact us today and let us show you how we can take your manufacturing business to the next level with our comprehensive SEO services.
How Cleartail Marketing Can Boost Your Manufacturing Business with Top-Notch SEO Services
If you're looking for a team that can help you navigate the digital marketing landscape, you've come to the right place. At Cleartail Marketing, we specialize in delivering tailor-made SEO services for manufacturing businesses. We understand that every client has unique needs, and we're committed to meeting those needs head-on.
Cleartail Marketing's Expertise in Manufacturing SEO
While many companies offer SEO services, not all of them understand the specific needs and challenges of the manufacturing industry. We do. Our team is well-versed in the unique characteristics of the manufacturing sector and the competitive landscape in which it operates.
Our approach to SEO is multifaceted. From keyword research and content creation to link building and online directory listings, we use a range of techniques to boost your online visibility. This comprehensive approach is designed to increase your keyword rankings, drive more traffic to your website, and ultimately, generate more leads and sales for your manufacturing business.
Proven Results Delivered by Cleartail Marketing
At Cleartail Marketing, we're not just talk. We've got the results to back it up. Our strategies are custom-tailored to each client's needs, and we consistently exceed expectations to help grow our client's businesses.
We understand that the proof is in the pudding, which is why we proudly showcase our success stories. Our long history of delivering positive results for our clients is a testament to our expertise and dedication.
Cleartail Marketing's Dedication to Building Strong Client Relationships
We don't just see you as a client; we see you as a partner. We believe in building deep relationships with our clients and are committed to ensuring all of their needs are met. Our account management team is dedicated to guiding you to success and is always looking for ways to improve your SEO campaign.
We pride ourselves on excellent communication. We're always available for a call when you need us, and we schedule regular monthly phone calls to review the campaign, discuss the results from the previous month, and answer any questions or concerns you may have.
At Cleartail Marketing, we understand the importance of trust in any partnership. That's why we make it our mission to be transparent, reliable, and responsive in all our interactions with you.
In addition to our proven strategies and dedication to client service, we're also data-driven. We use data and analytics to help us create marketing solutions that are most likely to succeed. This ensures that every decision we make and every action we take is based on solid evidence, not just gut feelings.
In conclusion, Cleartail Marketing is not just an SEO agency. We're your strategic partner in driving growth for your manufacturing business. We bring our expertise, commitment, and proven strategies to the table, so you can focus on what you do best: running your business.

Conclusion: The Value of Investing in Manufacturing SEO Services
Investing in SEO services for your manufacturing business is not an expense; it's an investment in your company's future. As we've discussed, SEO helps drive in-market buyers to your website, delivering ready-to-buy leads, and providing an excellent return on investment. It's clear that an effective SEO strategy is less expensive than paid advertisements and can give you an edge over your competition.
At Cleartail Marketing, we understand that every dollar counts for manufacturing businesses. That's why we offer cost-effective SEO solutions designed to provide maximum return on investment. We leverage on-page, off-page, and technical SEO strategies to drive organic traffic to your website, increase your online visibility, and propel your business to new heights.
Through our services, we help you tap into the vast pool of potential customers searching for your products or services online. By ranking at the top of Google Search, we ensure that your business is the first choice for these customers. And the best part? The growth potential for your business is massive once you achieve a top position for valuable keywords.
We also understand that SEO is not a one-time effort. To maintain and improve your website's ranking, we continuously work on off-page SEO techniques like link building and social media promotion. And we do this without you having to hire a full-time employee, making it a cost-effective solution for your business.
Finally, by partnering with Cleartail Marketing, you're not just getting an SEO service provider; you're getting a strategic partner committed to your business's growth. Our team of SEO experts is constantly monitoring the latest trends and algorithm changes to ensure your SEO strategy is always top-notch.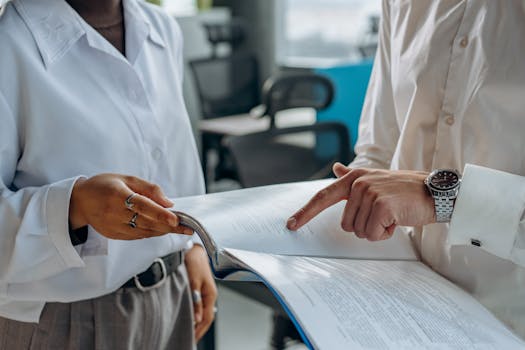 So, if you're still questioning the value of investing in manufacturing SEO services, consider the potential growth, the improved online visibility, and the increased sales. SEO is a powerful tool in the digital marketing world, and with Cleartail Marketing by your side, you'll have the expertise and strategies to harness its full potential.
Ready to boost your manufacturing business with Cleartail Marketing's top-notch SEO services? Contact us today and let's start your journey to the top of Google's search results.