Introduction: The Importance of Advertising in Manufacturing
In the age of digital transformation, mastering the art of advertising is crucial for businesses in every industry, and manufacturing is no exception. As a business owner, you know that your manufacturing company is not just about producing quality products but also about reaching out to potential customers, building relationships, and ultimately, driving sales. This is where advertising for manufacturing comes into play.
Advertising is not merely an add-on to your business activities; it is an integral part of your company's growth strategy. It is the bridge that connects your business to your target audience, helping them understand what you have to offer and why they should choose you over your competitors. Effective advertising can boost your brand visibility, increase customer engagement, and improve your bottom line.
However, executing a successful advertising strategy is no easy task, especially in the manufacturing sector, characterized by its technical complexity, long sales cycles, and a highly specific target audience. This is where specialized advertising agencies for manufacturing step in, leveraging their industry knowledge, technical expertise, and creative skills to help your manufacturing business thrive in today's competitive marketplace.
In this article, we will delve into the world of advertising in the manufacturing industry, explore the role of advertising agencies, and introduce you to some of the top agencies that can help you take your manufacturing business to new heights. So, whether you're a seasoned manufacturing company or a startup looking to make your mark, read on to learn how you can leverage the power of advertising to boost your manufacturing business.
Understanding Manufacturing Marketing
Definition and Goals of Manufacturing Marketing
In the ever-evolving world of business, understanding what manufacturing marketing entails is crucial for your manufacturing company's growth and success. Manufacturing marketing is a specialized process of creating and executing a strategic plan to promote, sell products, and directly communicate with customers. It focuses on generating sales, building brand awareness, and nurturing customer relationships, all with the aim of advancing the overall business objectives.
The primary goal of manufacturing marketing is to understand the needs of the market and develop products or services that meet those needs. This process involves identifying potential customers, understanding their needs, and communicating the benefits of your product or service in a way that resonates with them.
The Shift from Traditional to Digital Marketing in Manufacturing
Decades ago, B2B industrial and manufacturing marketing revolved around three simple elements: tradeshow lead generation, cold calling sales, and networking/relationship selling. However, the rise of technology and the internet have shifted the landscape dramatically. Today, a new generation of tech-savvy consumers has emerged, and their purchasing journey starts with internet research. This shift necessitates a change in marketing strategies for manufacturing companies.
Traditional marketing techniques that focus solely on product benefits are no longer effective. Instead, modern consumers seek a transparent relationship based on a reason to authentically connect with your brand. This means that manufacturers need to go beyond selling their product's advantages and differentiators. They must create a compelling narrative about how their product impacts people, building a deeper, more personal connection with potential customers.
The transition from traditional to digital marketing in manufacturing isn't just a small shift – it's a complete transformation. This transformation requires understanding and leveraging digital marketing tactics, such as SEO, content marketing, social media marketing, email marketing, and workflow automation.
Embracing digital marketing can significantly enhance your manufacturing company's visibility, reach, and ultimately, sales. However, it's a complex process that requires expertise and experience. Therefore, working with a professional marketing agency like Cleartail Marketing can be extremely beneficial in navigating this digital transformation.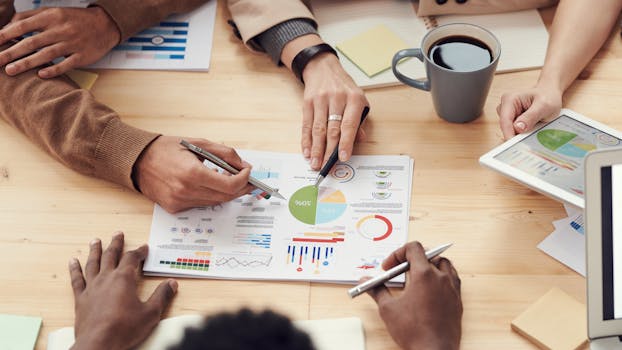 How to Advertise in Manufacturing: Key Steps to Success
Breaking through the clutter of the digital world can be a daunting task, especially for manufacturing businesses. Luckily, there are systematic steps you can take to effectively advertise your manufacturing business and reach your target audience.
Knowing Your Audience/Customer Base
Identifying your audience is the first and arguably the most crucial step in any advertising campaign. Understanding the needs, behaviors, and preferences of your customers shapes the direction of your advertising efforts. It also helps in creating content that resonates with them, leading to a higher conversion rate.
Clarifying Goals and Planning Strategies
Defining clear and measurable objectives will guide your marketing initiatives and allow you to monitor progress. Whether it's increasing brand awareness, generating leads, or driving sales, having well-defined goals is key to developing effective strategies.
Importance of a High-Quality Website
In the age of digital marketing, your website is your storefront. It's the first impression many potential customers will have of your business. Therefore, investing in a high-quality, user-friendly website that showcases your offerings effectively is paramount. Besides, a website optimized for SEO can significantly improve your visibility in search results, attracting more potential customers.
Creating Engaging Content
Content is king in digital marketing. It's the vehicle that carries your message to your audience. Creating engaging, informative, and relevant content not only attracts potential customers but also establishes your credibility in the industry. Content can take various forms, including blog posts, videos, infographics, and more.
Developing Your Presence in the Industry
Building a strong presence in your industry goes beyond just selling products or services. It involves positioning your brand as a thought leader and trusted source of information. This can be achieved through various means such as participating in industry events, contributing to industry publications, and maintaining an active presence on relevant online platforms.
Targeting Your Advertisements
Lastly, to maximize the impact of your advertising efforts, it's essential to target your advertisements precisely. This means directing your ads to individuals who are most likely to be interested in your products or services. Retargeting display advertising is an efficient and effective way to reach out to potential customers who have expressed interest in your company's products or services.
By implementing these steps, you can navigate the complexities of the digital world and effectively advertise your manufacturing business. Remember, the journey to success in digital marketing is a marathon, not a sprint. Consistency, patience, and continual optimization are key to achieving long-term success.
Role of Advertising Agencies in Manufacturing
Stepping into the competitive realm of manufacturing marketing, it's crucial to understand the role of advertising agencies and why they are vital for manufacturing companies.
Definition and Functions of Advertising Agencies
An advertising agency is a specialized service firm, engaged by businesses to ideate, produce, and manage the display of advertisements across different mediums. These professional firms leverage their expertise in market research, creative design, and strategy development to provide tailored advertising solutions that align with a company's goals and target audience.
Their primary functions include creating compelling ad content, planning and executing advertising campaigns, monitoring campaign performance, and making necessary adjustments for optimal results. They work across various channels such as print, digital, and social media, ensuring a holistic approach to a company's marketing efforts.
Why Manufacturing Companies Need Advertising Agencies
The need for advertising agencies in the manufacturing sector cannot be overstated. Below are a few reasons why they are indispensable:
Industry Expertise: Advertising agencies bring to the table years of experience and deep understanding of industry trends and consumer behavior. They know what works and what doesn't and can help manufacturers avert costly marketing mistakes.
Resource Efficiency: Most manufacturing companies have limited marketing resources. Hiring an advertising agency allows these companies to tap into a pool of diverse marketing expertise and advanced tools without the need to maintain a full-fledged in-house marketing team.
Fresh Perspective: An external agency can provide a fresh, unbiased perspective on a company's marketing strategies, offering innovative solutions that may be overlooked internally.
Time Management: By entrusting their advertising needs to a dedicated agency, manufacturers can focus on what they do best – producing high-quality products.
Performance Tracking: Advertising agencies offer comprehensive tracking and analytics services. They can accurately measure the effectiveness of advertising campaigns, providing valuable insights to guide future marketing decisions.
In the fast-paced digital age, manufacturing companies need to stay ahead of the curve. With the ever-increasing competition and evolving consumer behavior, it's more crucial than ever to have an effective advertising strategy. This is where advertising agencies come into play, offering their expertise to navigate the complexities of the marketing landscape and drive the manufacturing businesses towards success.
Top Advertising Agencies for Manufacturing
Navigating the complex waters of manufacturing advertising can be daunting without expert guidance. Here are the top advertising agencies that specialize in manufacturing, each offering a unique blend of experience, strategies, and services to help your manufacturing business thrive:
Kula Partners: Maximizing Revenue Potential for B2B Manufacturers
Kula Partners is a leader in driving revenue growth for B2B manufacturers. They help clients sell within complex, technical environments by taking an account-focused approach. Kula's services range from marketing strategy and account-based marketing to web design, development, and sales enablement.
Gorilla76: Sustainable Growth Strategies for Mid-sized B2B Manufacturers
Gorilla76 is known for helping mid-sized B2B manufacturers acquire more ideal-fit customers. They believe in implementing sustainable growth strategies, starting each client engagement with a comprehensive consulting project. Their services include brand positioning, copywriting, video production, SEO, website development, email marketing, account-based marketing (ABM), and sales enablement.
Vital: Driving Leads for Manufacturing Clients via Digital Marketing
Vital works with over 20 active manufacturing clients at any given time, driving leads through digital marketing activities. They offer services like website design, lead generation, SEO, paid advertising management, email marketing, marketing automation setup and management, conversion rate optimization, and content marketing.
Blackbean Industrial Marketing: Digital Marketing for Manufacturing, Energy, and Chemical Sectors
Blackbean Industrial Marketing specializes in digital marketing and advertisement for companies in the manufacturing, energy, and chemical sectors. They offer marketing strategy, website development, SEO, and brand strategy services, expertly navigating your business's inner workings to deliver targeted, results-driven campaigns.
Industrial Strength Marketing: Full-service Marketing Strategies for Manufacturing Companies
Industrial Strength Marketing is a full-service industrial marketing agency that designs, executes, and measures integrated marketing strategies for manufacturing companies. Their services include brand strategy, sales enablement, integrated marketing, and lead generation.
MFG Tribe: Exclusive Marketing Services for Manufacturing Companies
MFG Tribe is a standout agency that exclusively serves manufacturing companies. They focus on creating marketing strategies that increase brand awareness, generate leads, and drive sales growth.
RH Blake: Building Marketing and Sales Programs for Manufacturing and Engineering Firms
RH Blake is an agency that specializes in building marketing and sales programs specifically for manufacturing and engineering firms. They understand the unique challenges and opportunities in these industries and provide tailored solutions to drive growth.
weCreate: Marketing, Lead Generation, and Website Design for Manufacturers
weCreate provides specialized marketing, lead generation, and website design services for manufacturers. They are experts in identifying the unique needs of manufacturing businesses and delivering customized marketing solutions.
Grey Matter: ROI Guaranteed Marketing and Sales Enablement
Grey Matter offers ROI-guaranteed marketing and sales enablement services. They are committed to delivering measurable results and helping manufacturing companies grow.
Angle 180: High-performance Website Design and ROI-driven Online Marketing for Manufacturing and Construction Companies
Angle 180 specializes in high-performance website design and ROI-driven online marketing for manufacturing and construction companies. They focus on creating powerful web presence and effective online marketing campaigns that generate high-quality leads and drive sales.
Each of these agencies brings a unique approach and specific expertise in manufacturing advertising. Choosing the right one for your manufacturing business will depend on your specific needs, goals, and budget.
Cleartail Marketing: Your Partner in Boosting Your Manufacturing Business
Navigating the digital landscape can be a daunting task, especially if your expertise lies in manufacturing and not in digital marketing. That's where Cleartail Marketing comes in. A trusted partner that understands your business needs and can help you navigate the digital marketing realm with ease and confidence.
Overview of Cleartail Marketing
Established in 2014, Cleartail Marketing has carved a niche for itself as a reliable partner for B2B companies that need assistance in executing a digital marketing strategy to drive business growth. They specialize in creating and coordinating holistic marketing strategies that ensure every touchpoint is accounted for. Their mission is to help businesses grow faster by providing expert digital marketing solutions tailored to their specific needs.
Services Offered by Cleartail Marketing
Cleartail Marketing offers a comprehensive suite of services designed to help you boost your online presence and drive sales. These services include Search Engine Optimization (SEO), Email Marketing, Pay-Per-Click Advertising (PPC), Marketing Automation, Website Design & Development, and Reputation Management.
Whether you need a full-fledged marketing department or an extension of your existing team, Cleartail Marketing has got you covered. They can become your Fractional Chief Marketing Officer, taking care of everything from developing a marketing plan to executing daily actions and continually optimizing every campaign. If you already have a marketing department and need support in executing specific campaigns, Cleartail Marketing can seamlessly blend in and lend their expertise where needed.
Why Choose Cleartail Marketing for Your Manufacturing Business
The digital marketing landscape is constantly evolving, and staying competitive requires keeping up with the latest trends and techniques. Cleartail Marketing has a proven track record of helping businesses adapt and thrive in this ever-changing environment.
Choosing Cleartail Marketing as your partner means choosing a team of experts who understand the unique challenges and opportunities of the manufacturing industry. They are committed to helping you understand your audience better, create engaging content that speaks to their needs, and develop an effective digital strategy that drives traffic, leads, and sales.
Cleartail Marketing is more than just a service provider; they are a partner committed to your success. Their client-centric approach ensures that all strategies and campaigns align with your business goals and deliver measurable results.
In the world of manufacturing, where competition is fierce and the market is unforgiving, having a reliable and experienced digital marketing partner like Cleartail Marketing can provide the edge you need to stand out and succeed.
Conclusion: The Power of Advertising in Manufacturing Success
In the digital age, the success of your manufacturing business is inextricably tied to your advertising strategy. Gone are the days when manufacturing companies could rely solely on product quality and word-of-mouth referrals to drive business growth. Today, effective advertising is the lifeblood of any successful manufacturing enterprise.
The power of advertising in manufacturing lies in its ability to reach potential customers where they are, convey a compelling message about your products and services, and ultimately drive leads and sales. By leveraging the expertise of top advertising agencies for manufacturing, you can craft targeted campaigns that resonate with your audience and set you apart in a crowded market.
Cleartail Marketing, for instance, offers a comprehensive suite of digital marketing services designed to help manufacturing businesses grow. From search engine optimization and pay-per-click advertising to email marketing and reputation management, Cleartail Marketing designs customized strategies that align with your business goals and deliver measurable results.
Moreover, with a firm understanding of the manufacturing industry and a commitment to helping their clients succeed, Cleartail Marketing can help you navigate the complexities of digital marketing, ensuring your advertising efforts are targeted, effective, and ultimately successful.
In conclusion, advertising is no longer an optional extra for manufacturing businesses – it is an essential component of any successful business strategy. By partnering with a top advertising agency like Cleartail Marketing, you can harness the power of advertising to boost your manufacturing business, attract more customers, and drive sales growth.
The future of your manufacturing business depends on your ability to adapt to the digital age, and effective advertising is your ticket to success. So take the leap, invest in your advertising strategy, and watch as your manufacturing business reaches new heights of success.