Industrial ad agencies are the unsung heroes behind successful businesses in the manufacturing and industrial sectors. They serve as the bridge that connects companies with their target audience, effectively translating product features into compelling benefits that drive sales.
An industrial ad agency specializes in creating, planning, and handling advertising for its clients within the industrial sector. These agencies are not merely service providers—they are partners in growth, working closely with businesses to understand their unique needs, challenges, and goals. From building brand awareness to driving lead generation, an industrial ad agency plays a pivotal role in shaping a company's market presence and competitive edge.
But what exactly does an industrial ad agency do? How does it differ from a regular advertising agency? And most importantly, how can it help your business unlock unprecedented growth? In this article, we will delve deeper into the world of industrial ad agencies and explore how Cleartail Marketing, a leading player in the field, can help your business scale new heights. Stay tuned as we uncover the secrets of an industrial ad agency.
Industrial ad agencies specialize in marketing for the manufacturing sector, dealing with tangible, physical products. Traditional marketing strategies might not yield the desired results in this sector due to the unique nature and complexity of industrial products. This is where the expertise of an industrial ad agency comes in. They understand the intricacies of the industrial and manufacturing sectors and devise strategies that cater specifically to these industries.
Whether it's SEO, PPC, email marketing, or print advertising, a trusted agency like Cleartail Marketing, with a proven track record in industrial marketing, can help you navigate the complex landscape of industrial advertising. Join us as we explore the role of an industrial ad agency and how Cleartail Marketing can help your business grow.
Understanding Industrial Marketing: Examples and Strategies
In the bustling digital economy, industrial marketing stands as a specialized niche that demands a unique approach. Unlike traditional consumer marketing, industrial marketing involves marketing goods and services to businesses, not individuals. It requires the ability to understand and market complex products to a niche audience, often involving multiple personas within a long sales cycle. Let's dive into some of the offline and online strategies that industrial marketing agencies like Cleartail Marketing deploy to propel businesses forward.
Offline Industrial Marketing Strategies
An industrial marketing agency employs a variety of offline strategies to reach potential clients. These can encompass a broad range of tactics, from the traditional to the innovative. Common offline industrial marketing strategies include brochures, print ads, trade shows, and branded marketing materials. These tangible assets can be highly effective in communicating your company's unique value proposition and reaching potential customers who may not be as active online.
Online Industrial Marketing Strategies
The online realm presents a wealth of opportunities for industrial marketing. The transition from traditional selling to internet marketing is a major transformation that many industrial companies are currently navigating. Industrial marketing agencies like Cleartail Marketing help businesses to move forward in this digital shift at a pace they can manage.
Online industrial marketing strategies include a range of techniques, such as search engine optimization (SEO), pay-per-click advertising, email marketing, and social media promotion. These online strategies aim to increase website traffic, improve brand awareness, and improve search engine rankings.
Specifically, SEO strategies help to boost your online presence by improving your website's visibility in search engine results. Pay-per-click advertising, on the other hand, allows you to maximize your marketing budget by only paying when a user actually clicks on your ad. Email marketing campaigns can help win new customers and increase sales, while social media management allows you to engage your audience in meaningful ways.
Another noteworthy online strategy is online PR, where you pitch your business to online news outlets to get articles written about your company, thereby providing valuable backlinks to your website.
Ultimately, the choice between offline and online industrial marketing strategies will depend on your specific business needs and the behavior of your target audience. A specialist industrial marketing agency like Cleartail Marketing can help you navigate these choices and develop a tailored marketing plan that delivers results.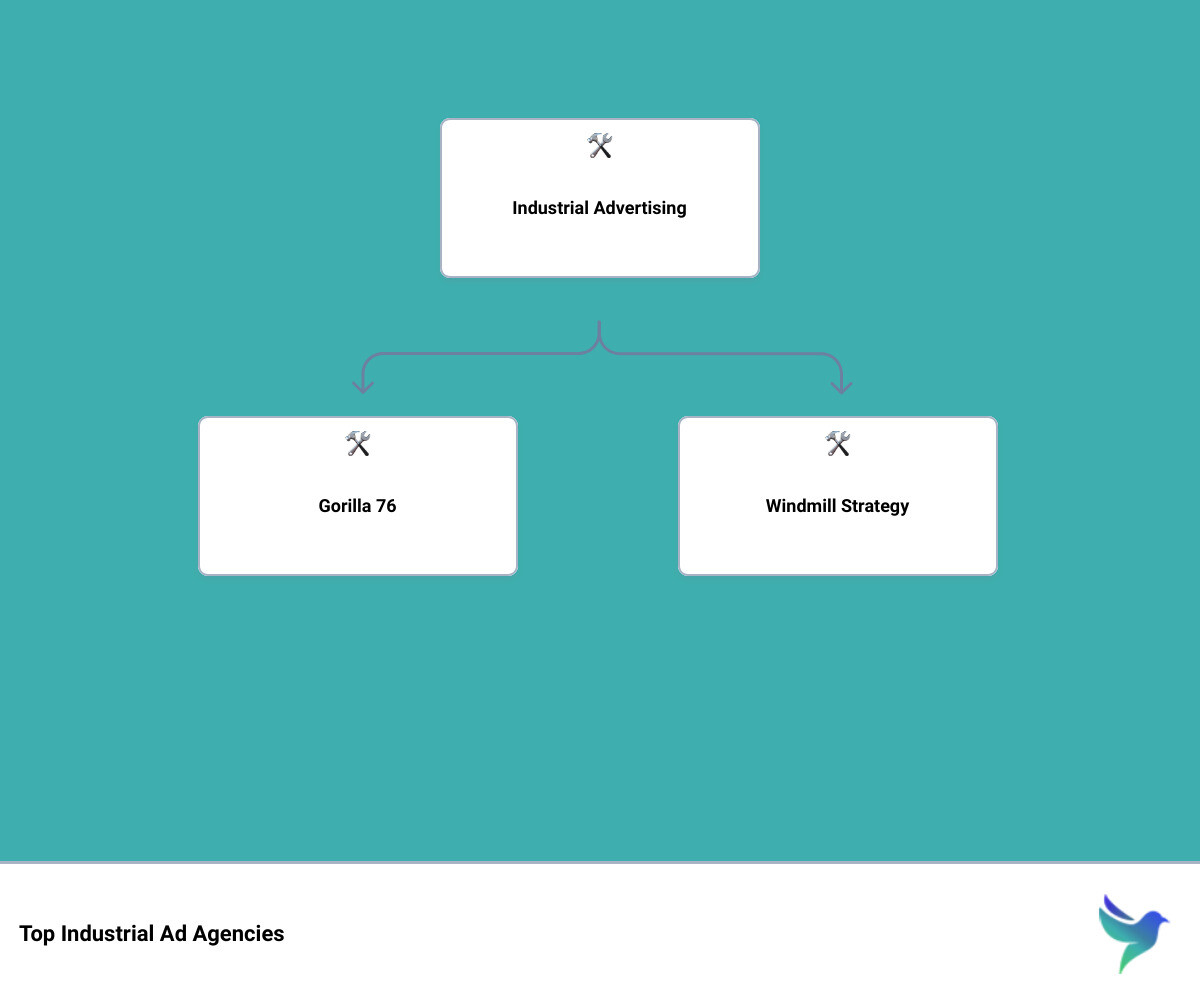 The Top Industrial Ad Agencies: A Comparative Analysis
Choosing the right industrial ad agency can feel like walking through a maze. Each agency offers a unique set of services, making it challenging to determine which one suits your business needs. Let's compare the strengths of four leading players in the industry to help you make an informed decision.
Gorilla 76: A Revenue-Focused Approach
Established in 2006, Gorilla 76 has made a name for itself by helping mid-sized B2B manufacturers attract more ideal-fit customers. This agency believes in a sustainable growth strategy and emphasizes strategy before implementation. Their services include brand positioning, copywriting, video production, SEO, website development, email marketing, account-based marketing (ABM), and sales enablement. Gorilla 76 prides itself on its well-rounded approach, providing a comprehensive picture of a client's situation before making recommendations.
Windmill Strategy: Specializing in B2B Technical and Industrial Companies
Windmill Strategy focuses on assisting B2B technical, industrial, life science, and manufacturing companies. They excel at increasing lead quality and quantity through strategic improvements to websites and digital marketing. If you have complex products or services and operate in niche markets, Windmill Strategy is a good fit. They offer web design & development, digital marketing, ABM & analytics, UX, visual design & branding, and they cater to companies with a global reach and supply chain, GDPR, CRM, ERP, MAT integrations.
Kula Partners: A Comprehensive Marketing Solution
Kula Partners, based in Halifax, Nova Scotia, works with B2B manufacturers to maximize their revenue potential. Their services include marketing strategy, account-based marketing, web design and development, and sales enablement. Kula Partners aims to assist manufacturers in driving revenue growth within niche markets, making them an excellent option for businesses targeting specific industry sectors.
Cleartail Marketing: Experience, Proven Results, and Strong Client Relationships
Cleartail Marketing stands out with its comprehensive suite of services, including SEO, email marketing, pay-per-click advertising, marketing automation, WordPress website design & development, and reputation management. This agency is committed to helping small to medium-sized businesses grow their online presence and increase sales. Cleartail Marketing is known for its customized solutions, proven results, and strong client relationships. They are the go-to experts for businesses struggling with generating organic traffic, reaching target audiences, and effectively utilizing digital marketing strategies.
The decision on which agency to choose ultimately depends on your business's specific needs and goals. By understanding the unique strengths of each agency, you can find the partner that will best help you unlock growth and reach your marketing objectives.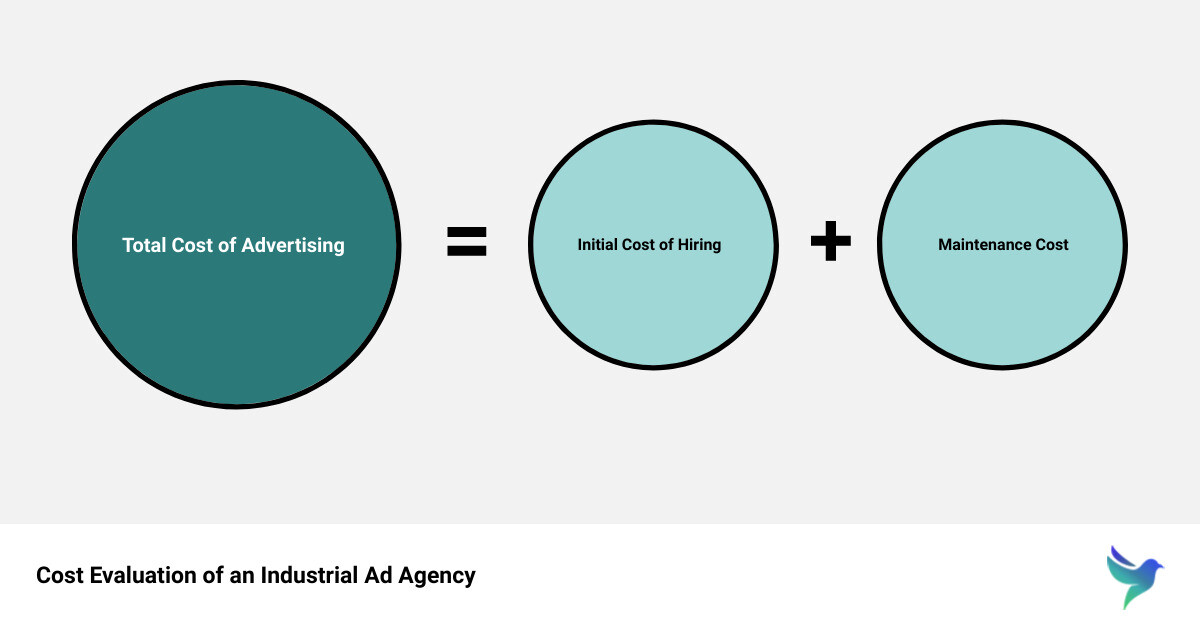 The Cost of Using an Industrial Ad Agency: An Overview
Engaging an industrial ad agency is a significant decision that necessitates understanding the potential costs involved. This investment, however, is key to unlocking your business's growth potential.
Factors Influencing the Cost of Hiring an Ad Agency
The cost of hiring an ad agency varies significantly based on multiple factors. The scope of the project, the size of your business, and the level of expertise required all contribute to the final price tag.
For instance, a small to medium-sized business looking for a basic online marketing strategy may be able to find services for as low as $900 per month. However, a larger enterprise needing a comprehensive, multi-channel marketing strategy could see costs rise to $20,000 per month or more.
Additional costs may include services like keyword research, SEO strategy development, link building, brand reputation management, content creation, and web page design and development. It's worth noting that while these services may initially seem costly, they are critical to achieving a competitive edge in today's digital marketplace.
The Return on Investment: Evaluating the Cost-Benefit Ratio
While the costs of hiring an ad agency can be substantial, it's essential to consider the potential return on investment (ROI). An effective SEO strategy, for instance, can take about 3 to 6 months to start showing results. But once your website ranks at the top for valuable keywords, your business growth potential can be massive.
In comparison to outbound marketing methods like cold-calling or email spam, an inbound marketing strategy like SEO targets potential customers who are already interested in what you have to offer. This quality over quantity approach leads to higher conversion rates and subsequently, a higher ROI.
Working with an experienced industrial ad agency like Cleartail Marketing can help expedite this process. By leveraging their team's expertise and resources, you can achieve your desired results faster than if you were to navigate the SEO landscape alone.
In conclusion, while the costs of hiring an ad agency for your industrial company might seem daunting, the potential for increased visibility, targeted customer engagement, and substantial ROI makes it an investment worth considering.
How Cleartail Marketing Stands Out: Services and Unique Selling Proposition
When it comes to industrial marketing, every agency has its strengths. Cleartail Marketing, however, has a unique blend of services that make it stand out in the crowd. Designed to cater to the specific needs of small to medium-sized businesses, Cleartail Marketing offers a range of digital marketing solutions that can be tailored to meet your company's unique goals and objectives. Whether you're looking to boost your online presence, maximize your marketing budget, create a strong online identity, engage with your audience, or build trust and credibility, Cleartail Marketing has got you covered.
Search Engine Optimization: Boosting Your Online Presence
In the digital age, having a robust online presence is a must. That's where Search Engine Optimization (SEO) comes in. Cleartail Marketing employs proven SEO strategies to help get your website recommended by search engines like Google when potential customers are searching for your business. With the right SEO tactics, Cleartail Marketing can make your website more visible to your target audience, thereby increasing your chances of attracting more potential customers.
Pay-Per-Click Advertising: Maximizing Your Marketing Budget
Pay-Per-Click (PPC) advertising is another key service offered by Cleartail Marketing. With PPC, your business can be placed in front of ready-to-buy customers who are searching for your products and services. This targeted approach to advertising ensures that your marketing budget is used efficiently, helping you reach the most relevant audience for your business.
WordPress Website Design and Development: Creating a Strong Online Identity
An impressive online presence starts with a professionally designed website. Cleartail Marketing's team of WordPress experts are well-versed in designing and developing websites that not only look great but also function effectively. They ensure that your website clearly articulates your message to potential customers and is optimized for search engines.
Email Marketing and Social Media Management: Engaging with Your Audience
Staying connected with your audience is crucial in building long-lasting relationships. Cleartail Marketing's email marketing services help you educate your current and potential customers about everything your business has to offer. In addition, their social media management services ensure that your brand maintains a consistent and engaging presence across various social media platforms.
Reputation Management: Building Trust and Credibility
Lastly, Cleartail Marketing offers reputation management services to ensure that your online reputation accurately represents your business. By monitoring and managing your digital footprint, they help build trust and credibility with your audience – two key factors that can significantly influence a customer's decision to do business with you.
In a nutshell, Cleartail Marketing's comprehensive suite of services, combined with their experience and commitment to delivering results, make them a standout choice for any small to medium-sized business looking to unlock growth through industrial marketing.
Conclusion: Unlocking Growth with an Industrial Ad Agency
As we pull the curtain back on the world of industrial ad agencies, it's clear that the right partner can be nothing short of transformative for your business. A potent mix of strategic thinking, creativity, and a deep understanding of the industrial sector can propel your brand to new heights, making it more visible, more compelling, and more successful.
Choosing an agency like Cleartail Marketing, an industry stalwart with a rich history of delivering results, is akin to unlocking a treasure trove of opportunities. They don't just offer a wide array of services such as SEO, PPC advertising, website design and development, and email marketing. They provide tailor-made strategies that are rooted in a deep understanding of your business and its unique needs. Their goal is not just to drive traffic to your website but to generate high-quality leads that convert into sales, ultimately leading to business growth.
When it comes to cost, Cleartail Marketing employs a flexible approach, with costs ranging anywhere from $900 to $20,000 per month on average. However, they understand that the real value lies not in the cost but in the return on investment. By focusing on high-impact strategies that deliver measurable results, they ensure that every dollar you spend is an investment in your business's future.
At the end of the day, the decision to hire an industrial ad agency is a significant one. It requires a leap of faith – a belief that the right partner can help you navigate the complex landscape of industrial marketing and unlock untapped growth. But as many satisfied clients will attest, with Cleartail Marketing, that leap is more like a step – a step towards a future of greater visibility, increased sales, and robust business growth.
As you embark on the next phase of your business journey, remember that the right industrial ad agency can be your compass, guiding you towards success. Choose wisely, choose Cleartail Marketing, and unlock the growth that your business deserves.