Introduction: The Importance of Digital Marketing in the Industrial Sector
In the fast-paced digital era, businesses cannot afford to lag when it comes to their online presence. This is especially true for industrial companies, where the stakes are high and the competition is fierce. Whether you're manufacturing complex machinery or offering specialized industrial services, a robust digital marketing strategy is no longer a luxury—it's a necessity.
Digital marketing has a crucial role in the industrial sector. It helps businesses increase visibility, attract qualified leads, improve customer engagement, and ultimately drive sales. The industrial buying process is often complex and involves multiple decision-makers. Hence, it requires a unique approach that combines technical knowledge with strategic marketing tactics. This is where an industrial digital marketing agency comes in.
An industrial digital marketing agency, such as Cleartail Marketing, specializes in leveraging the power of SEO, Local SEO, and Workflow Automation to boost your online presence and enhance your business growth. They understand the intricate nature of the industrial sector and have the expertise to navigate its unique challenges.
By partnering with a digital marketing agency, you can significantly improve your online visibility, generate high-quality traffic, and increase conversions. Ultimately, this leads to increased revenue growth, as demonstrated by companies like Bridgesaw.com, which experienced a 278% growth within 12 months of implementing an SEO strategy.
In the following sections, we'll delve deeper into the role of an industrial digital marketing agency, the potential earnings from such a partnership, and the top industrial digital marketing agencies in the United States. Plus, we'll introduce you to Cleartail Marketing, your potential partner in industrial digital marketing.
Are you ready to boost your online presence and accelerate your business growth? Let's dive in!
Understanding the Role of an Industrial Digital Marketing Agency
In the rapidly evolving digital landscape, an industrial digital marketing agency functions as your strategic partner, guiding your business towards increased visibility, improved engagement, and, ultimately, greater revenue. But what exactly is an industrial digital marketing agency, and how does it navigate the unique challenges of industrial marketing? Let's break it down.
Defining an Industrial Digital Marketing Agency
An Industrial Digital Marketing Agency is a specialized organization that assists industrial and manufacturing companies in amplifying their online presence and driving business growth. These agencies offer end-to-end solutions for your online persona, right from branding your business, designing your website, optimizing it for higher rankings on search engines, to creating and executing a comprehensive digital marketing strategy. Their expertise lies in understanding complex products and services and marketing them to niche audiences through multiple personas, all within a typically extended sales cycle.
The Unique Challenges of Industrial Marketing
Industrial marketing presents its own set of challenges. Manufacturing and industrial businesses are in the midst of a significant transformation, shifting from traditional selling tactics to internet marketing strategies. This transition requires an understanding of the intricacies and nuances of the industrial marketplace, the needs of the industrial buyer's journey, and the ability to communicate these complexities effectively to a sophisticated audience.
Industrial marketing agencies, therefore, need to be adept at marketing complex products and services over long sales cycles. They must also effectively engage multiple decision-makers and audience personas, all while providing clear, useful information that contributes to a great customer experience.
The Role of a Digital Marketing Agency in the Industrial Sector
An industrial digital marketing agency plays a crucial role in helping businesses transition smoothly from traditional to digital marketing strategies. They employ a range of tactics, including SEO, PPC, content marketing, and social media, to attract, engage, and nurture niche audiences.
By securing top positions on search engine results for valuable keywords, they ensure your business's visibility to customers actively searching for your products or services. This strategy focuses on quality over quantity, generating leads from individuals already interested in what you have to offer, resulting in a more efficient and effective sales cycle.
Moreover, a digital marketing agency is always up-to-date on the latest changes in Google's algorithm. They can quickly and efficiently adapt your SEO strategy to these changes, ensuring your business remains at the forefront of search results.
In conclusion, an industrial digital marketing agency serves as your strategic partner in navigating the complex landscape of digital marketing, ensuring your business's online presence is robust and your sales potential massive.
The Potential Earnings from Partnering with a Digital Marketing Agency
Unlock the door to substantial revenue growth with an expert digital marketing agency. Industrial businesses can realize significant earnings when partnering with a digital marketing agency. The potential for improved online visibility, lead generation, and sales conversions is vast.
Hourly Pay and Salary Ranges in Digital Marketing
When considering the potential earnings from digital marketing, it's crucial to understand the cost landscape. Digital marketing agencies typically charge by the project or monthly, with costs varying depending on the scope of the work required. For instance, the average digital marketing agency hourly pay ranges from approximately $13.25 for a Social Media Coordinator to $22.36 for a Web Developer. The average annual salary varies from around $40,000 for an Account Executive, up to $84,853 for a WordPress Developer.
However, these costs can be considered an investment towards your business's future growth. The right digital marketing strategy can multiply your earnings many times over, providing a significant return on investment.
The Financial Impact of Digital Marketing on Industrial Businesses
Partnering with a digital marketing agency can have a substantial financial impact on your industrial business. Digital marketing is an investment that, when executed correctly, can generate a high return on investment (ROI).
The time it takes to realize a return on your digital marketing investment can vary. For businesses just starting with digital marketing, it might take 3 to 6 months to see results. However, if you're working with an experienced digital marketing agency, they can expedite this process, delivering ROI much faster.
Moreover, the financial benefits are not just short-term. A successful digital marketing strategy can set your business up for long-term success, ensuring a consistent flow of quality leads and a strong online presence.
In essence, the potential earnings from partnering with a digital marketing agency cannot be overstated. It is an investment worth making for any industrial business looking to thrive in the digital age. Whether you're looking to boost your online presence, generate quality leads, or increase your sales, a digital marketing agency can help you achieve these goals and more.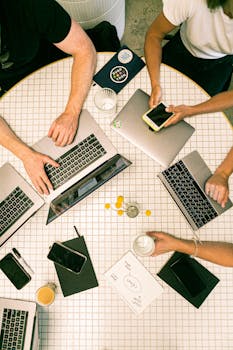 Top Industrial Digital Marketing Agencies in the United States
In the world of industrial digital marketing, there are a few key players that have made a name for themselves by delivering exceptional results and offering a wide range of services tailored to the specific needs of manufacturing businesses. Let's take a closer look at these top-tier agencies that can help you boost your online presence and achieve your digital marketing goals.
Kula Partners: Maximizing Revenue Potential for B2B Manufacturers
Kula Partners, based in Halifax, Nova Scotia, has a strong focus on B2B manufacturers. They excel at driving revenue growth within niche markets using a targeted, account-focused approach. With services ranging from marketing strategy, account-based marketing, web design and development, to sales enablement, they're a one-stop-shop for manufacturers looking to maximize their revenue potential.
Gorilla76: Sustainable Growth Strategies for Mid-sized B2B Manufacturers
Gorilla76 from Saint Louis, MO, prides itself on helping mid-sized B2B manufacturers acquire ideal-fit customers. They're firm believers in strategy before implementation, beginning all client engagements with a consulting project to get a well-rounded picture of their client's situation. Their services include brand positioning, copywriting, video production, SEO, website development, email marketing, account-based marketing, and sales enablement.
Vital: Driving Leads for Manufacturing Clients through Digital Marketing
Based in Portsmouth, NH, Vital has been working with manufacturers to improve their digital marketing performance and grow their businesses for over 10 years. Their services include website design and development, lead generation, SEO, paid advertising management, email marketing, marketing automation setup and management, and conversion rate optimization.
Blackbean Industrial Marketing: Digital Marketing for Manufacturing, Energy, and Chemical Sectors
BlackBean Marketing is a marketing agency for companies in the manufacturing, energy, and chemical sectors. Their team of seasoned marketing technicians use the latest tools and techniques to deliver targeted, results-driven campaigns, with services that include marketing strategy, website development, SEO, and brand strategy.
Industrial Strength Marketing: Full-service Marketing Strategies for Manufacturing Companies
Nashville, TN-based Industrial Strength Marketing is a full-service industrial marketing agency that plans, designs, executes, and measures integrated marketing strategies for manufacturing companies. Their services include brand strategy, sales enablement, integrated marketing, analytics and insights, and lead generation.
MFG Tribe: Exclusive Marketing Services for Manufacturing Companies
MFG Tribe, located in Austin, TX, works exclusively with manufacturing companies. They provide services such as website design & development, SEO, content marketing, social media marketing, social media advertising, LinkedIn expertise, and PPC management.
RH Blake: Building Marketing and Sales Programs for Manufacturing and Engineering Firms
RH Blake, based in Woodmere, OH, has been helping growth-driven manufacturing and engineering firms build marketing and sales programs that generate quality sales leads and accelerate growth for over 30 years.
weCreate: Marketing, Lead Generation, and Website Design for Manufacturers
weCreate specializes in marketing, lead generation, and website design for manufacturers. Their advanced knowledge of website user experience as it pertains to a manufacturing audience sets them apart in the industry.
Grey Matter: ROI Guarantees and Agile Acquisition for Marketing and Sales Enablement
Grey Matter offers ROI guarantees and agile acquisition for marketing and sales enablement, making them a reliable choice for businesses seeking a digital marketing agency with a proven track record of success.
Angle 180: High-performance Website Design and ROI-driven Online Marketing for Manufacturing and Construction Companies
Angle 180 offers high-performance website design and ROI-driven online marketing tailored for manufacturing and construction companies. Their expertise in these sectors enables them to deliver strategies that effectively target and engage their clients' specific audiences.
These agencies have established themselves as leaders in the industry, providing specialized digital marketing services to help industrial businesses thrive in the digital age. However, finding the right agency for your business requires a thorough understanding of your specific needs and goals. In the next section, we'll delve into how Cleartail Marketing can be your partner in industrial digital marketing.
The Changing Landscape of Industrial and Manufacturing Marketing
The world of industrial and manufacturing marketing is evolving at a rapid pace. As we leave the realm of traditional marketing techniques behind, digital strategies are stepping up to meet the modern-day challenges and opportunities faced by industrial businesses.
The Shift from Traditional Marketing Techniques to Digital Strategies
Gone are the days when tradeshows, cold calling sales, and networking were the primary modes of marketing for industrial businesses. Today's tech-savvy buyers are looking for more. They begin their purchasing journey with intensive online research, making them immune to traditional marketing tactics. Instead of sales-speak, they crave valuable, relevant content that will help them make informed decisions. They want to interact with brands that understand their needs and offer solutions that align with their goals.
As a result, industrial businesses are increasingly turning to digital marketing strategies to engage these audiences. From SEO and PPC to email marketing and marketing automation, digital tactics are offering innovative ways to connect with potential customers and nurture leads into sales.
The Importance of Building Transparent Relationships with Customers
In an era where consumers are bombarded with marketing noise, authenticity and transparency are more important than ever. Modern buyers are not just interested in product benefits; they want to connect with brands that stand for something. They seek a transparent relationship based on authentic connection and shared values. To meet these expectations, industrial businesses need to move beyond product-centric marketing and focus on building genuine relationships with their customers.
This shift calls for a new approach to marketing that's not just about selling but about telling a compelling story. It's about communicating the impact of your products and services on people and the world around us. And that's where a veteran digital marketing agency like Cleartail Marketing can make a difference, by using digital marketing to target these prospects where they are looking for you.
The Role of Market Research in Developing Effective Marketing Strategies
Of course, crafting an effective digital marketing strategy requires an in-depth understanding of your audience. It's not about picking a random mission and attaching it to your product. It's about conducting thorough market research to gain insights into your specific audience and their needs.
Through market research, you can identify your target personas, understand their pain points, and uncover opportunities to engage and convert them. These insights can then inform your marketing strategies, helping you deliver content and messages that resonate with your audience and drive business growth.
In the ever-changing landscape of industrial and manufacturing marketing, staying ahead of the curve is key. By embracing digital strategies, building transparent relationships, and leveraging market research, you can boost your online presence and achieve your business goals. With a partner like Cleartail Marketing, you can navigate these changes and set your business on the path to success.
Cleartail Marketing: Your Partner in Industrial Digital Marketing
Overview of Cleartail Marketing Services
Enter into the world of Cleartail Marketing, an award-winning digital marketing agency that is ready to become your chief marketing officer and marketing department. With a robust suite of services, Cleartail has the perfect recipe to bolster your online presence and take your business to new heights.
Starting with Search Engine Optimization (SEO), Cleartail Marketing ensures your website is recommended by search engines like Google when potential customers are searching for your business. This is complemented by their Pay-Per-Click Advertising (PPC) services, which allows your business to be placed in front of ready-to-buy customers searching for your products and services.
Not to forget, their team of WordPress experts is ready to offer Website Design and Development services that deliver a professional website, articulating your message to potential customers and optimizing all pages for search engines. Last but not least, their Email Marketing services provide consistent email newsletters to educate your current and potential customers on everything your business has to offer.
Cleartail Marketing's Unique Selling Proposition
Cleartail Marketing stands out from the crowd with its unique approach to digital marketing. Since 2014, they have been working with businesses to help them grow faster by implementing custom digital marketing strategies tailored to their needs. They understand that digital marketing is always evolving and make it a priority to continuously improve their skills and knowledge to deliver the best campaigns possible for their clients.
What sets Cleartail Marketing apart is not just their expertise, but their commitment to their clients. They build deep relationships with their clients, ensuring that all needs are met and that they are as knowledgeable as an in-house employee would be. Their excellent communication is lauded, with quick response times, easily understandable campaign reporting, and constant availability for calls.
Cleartail Marketing's Proven Results and Client Relationships
Cleartail Marketing's track record speaks for itself. With numerous success stories and a goal of making every client a case study, they've proven time and time again their ability to exceed expectations and help businesses grow. They have a long history of delivering impressive results, such as helping Bridgesaw.com grow their sales by 278% within a year and contributing to a 41% growth in calls for Heart Certified Autocare.
Their client relationships are a testament to their dedication and commitment to delivering successful results. Whether it's the founder and CEO of Bridgesaw.com or the president and owner of Heart Certified Autocare, their clients are thrilled with their experiences and highly recommend Cleartail Marketing's services.
In conclusion, Cleartail Marketing is more than just a digital marketing agency. They are your partners, dedicated to helping you boost your online presence and achieve your business goals. So why wait? Take a leap towards success with Cleartail Marketing today.
Conclusion: Boost Your Online Presence with an Industrial Digital Marketing Agency
In this digital era, where competition is fierce, it's more important than ever for industrial companies to secure their online presence. With every potential client at your fingertips, the internet can be a gold mine of opportunities, but only if you have the right tools and strategies. This is where an industrial digital marketing agency comes into play, and there's no better choice than Cleartail Marketing.
As we've discussed, Cleartail Marketing is a leading agency in the industrial digital marketing sector. They offer a comprehensive suite of services, from WordPress website design and development to email marketing, marketing automation, and reputation management. Their team of WordPress experts can deliver a professional website that clearly articulates your message to potential customers and optimizes all pages for search engines. Their email marketing strategies can educate your current and potential customers about your business, while their marketing automation services can streamline communication, lead distribution, and contact segmentation.
But that's not all. Cleartail Marketing isn't just about generating traffic — they're about generating quality traffic. Their SEO strategies are designed to target potential customers who are already interested in your products or services, resulting in higher-quality leads and, ultimately, more sales. Unlike traditional outbound marketing strategies, this approach is not only more efficient, but also more effective in generating leads and converting sales.
Moreover, Cleartail Marketing's approach is results-driven. They understand the unique challenges of industrial marketing and are committed to delivering measurable results. As evidenced by their client testimonials, they've helped businesses achieve significant growth in a relatively short amount of time.
In conclusion, boosting your online presence is crucial for staying competitive in the industrial sector. It's not enough to simply have a website; you need to ensure it's visible to your target audience and optimized for conversions. And that's precisely what Cleartail Marketing can help you achieve. With their expertise and proven strategies, they can help you leverage the power of digital marketing to drive business growth. So don't wait — partner with Cleartail Marketing and start boosting your online presence today!