Introduction: The Importance of Industrial Marketing
In a world where digital saturation is the norm, industrial marketing emerges as the linchpin of successful business growth. It is no longer enough to have a great product or service; connecting with your niche customer base and communicating your unique value proposition in a way that resonates with them has become crucial. As a small to medium-sized business owner, you might be wrestling with the challenge of generating organic traffic, reaching your target audience, and effectively leveraging digital marketing strategies. This is where the magic of an industrial marketing agency comes into play.
Industrial marketing agencies, like Cleartail Marketing, specialize in transforming your business by creating and implementing strategies that not only increase website traffic but also convert that traffic into qualified leads, and ultimately into loyal customers. With a deep understanding of the industrial sector, these agencies are equipped to navigate the often complex and lengthy sales cycle, using innovative methods such as content marketing, SEO, and workflow automation to streamline processes and boost revenue.
In this article, we delve into the world of industrial marketing, discussing its importance, understanding what an industrial marketing agency does, and how partnering with the right agency can transform your business. Whether you operate in the technology, healthcare, manufacturing, or any other industrial sector, this guide will offer valuable insights into how you can harness the power of industrial marketing to grow your business.
Understanding Industrial Marketing Agencies
Industrial marketing agencies are the powerhouses of business growth in the industrial sector. But what exactly is an industrial marketing agency, and what role do they play in the growth and success of your business?
What is an Industrial Marketing Agency?
An industrial marketing agency is a specialized type of marketing firm that focuses on meeting the unique needs of businesses in the industrial sector. Unlike other marketing agencies, industrial marketing agencies possess in-depth knowledge and expertise in industrial sectors such as manufacturing, distribution, and recruitment.
These agencies deliver tailored marketing strategies that align with the specific requirements of industrial businesses. They understand the complex dynamics of B2B relationships, the technical nature of industrial products and services, and the unique challenges faced by businesses in this sector.
The Role of an Industrial Marketing Agency
Industrial marketing agencies play a crucial role in helping businesses navigate the complexities of the industrial market. Their work encompasses a broad range of services designed to drive business growth, from developing a clear brand strategy to implementing integrated marketing campaigns and generating valuable analytics and insights.
One of the key roles of an industrial marketing agency is to generate demand. For instance, in the manufacturing sector, an agency may focus on delivering valuable content that specifiers require, thus driving demand for the company's products or services.
For distributors, these agencies make it easier for industrial buyers to find and do business with you online. They optimize your online presence to attract more customers and increase your visibility in the industrial market.
In the realm of workforce recruitment, an industrial marketing agency can solve your recruiting and retention challenges with an integrated marketing approach that attracts and retains top talent.
Furthermore, industrial marketing agencies leverage marketing automation tools to streamline and optimize marketing efforts. They help businesses harness the power of these tools to automate marketing tasks such as email marketing, social media campaigns, lead nurturing, and much more.
In essence, the role of an industrial marketing agency extends far beyond traditional marketing. They are strategic partners that help industrial businesses modernize, grow, and achieve their business objectives in an increasingly competitive market.
The Power of Industrial Marketing: Case Studies and Examples
Industrial marketing, when done right, can revolutionize a company's growth trajectory. Let's dive into some real-world examples of how industrial marketing agencies have propelled businesses to new heights. Each case study provides a unique glimpse into the transformative power of industrial marketing.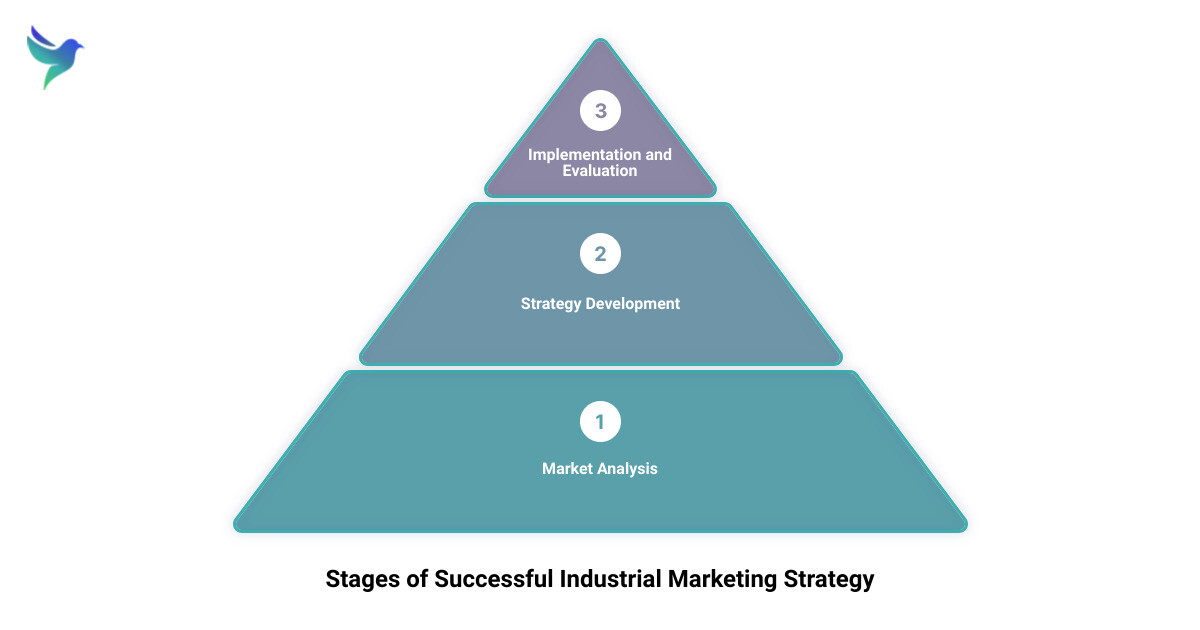 Case Study 1: Successful Industrial Marketing Strategy
Duroair Technologies, a leading North American industrial clean air solutions provider, needed to modernize its marketing approach. They partnered with INDUSTRIAL, a full-service marketing agency specializing in the industrial sector. Through a comprehensive industrial website design and strategic, integrated approach, Duroair achieved a phenomenal 200% year-over-year revenue growth. Here, a strategic blend of branding, modernization, and growth initiatives delivered a tangible impact on the bottom line.
Case Study 2: Effective Lead Generation in Industrial Marketing
Southern Metal Fabricators, a company struggling with lead generation, turned to INDUSTRIAL for an overhaul of their online presence. By leveraging industrial website development, the agency transformed Southern Metal Fabricators' website into a potent lead generation tool. With a robust online presence, the company saw marked improvements in its ability to attract and convert potential customers.
Case Study 3: Brand Development in the Industrial Sector
The Manufacturing Extension Partnership (MEP) faced a branding challenge. They needed to find their brand voice amidst a cluttered marketplace. INDUSTRIAL, with its expertise in industrial marketing, was their chosen partner for this journey. The result? MEP successfully found its brand voice and established a solid foothold in the industry. The case of MEP underscores the role of a targeted brand strategy in enhancing market recognition and competitive positioning.
The above examples illustrate the transformative power of industrial marketing when a strategic, integrated, and customized approach is adopted. Leveraging the services of a specialized industrial marketing agency, businesses can achieve their growth objectives, attract quality leads, and amplify their brand presence.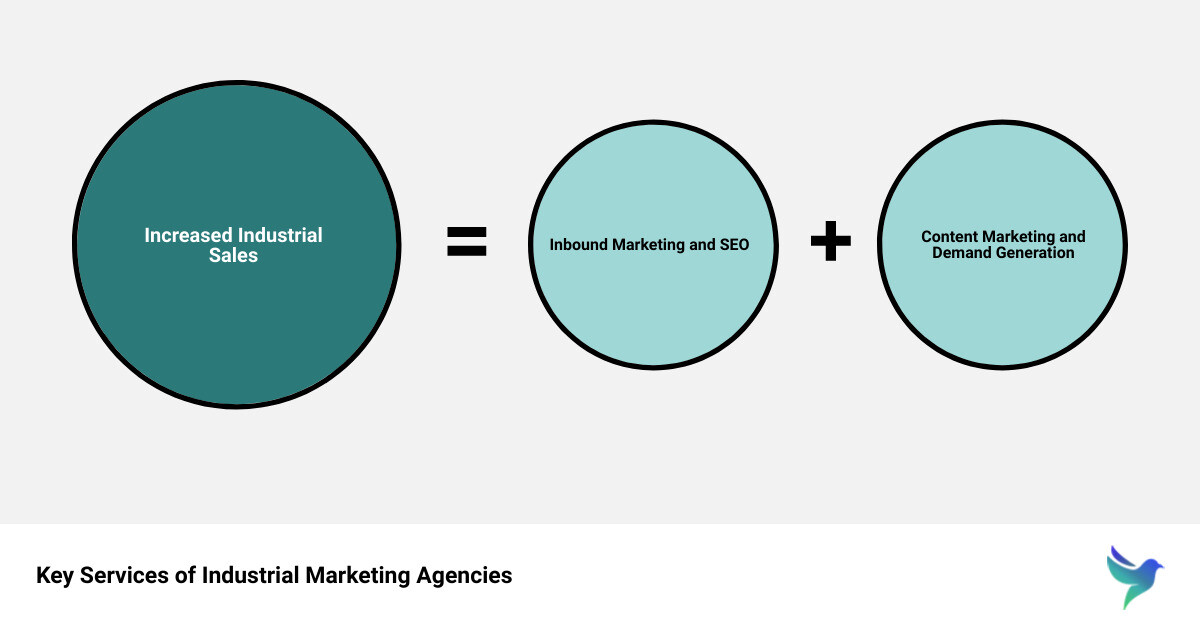 Key Services Offered by Top Industrial Marketing Agencies
One of the most critical aspects of industrial marketing lies in the selection of the right agency that provides comprehensive services tailored to meet your business objectives. Let's delve into the key services that top industrial marketing agencies offer.
Inbound Marketing and SEO
In today's digital era, inbound marketing and SEO (Search Engine Optimization) have become indispensable for businesses, including those in the industrial sector. Inbound marketing involves creating and sharing valuable content designed to appeal to your ideal customers and attract qualified prospects to your business. This technique is subtly powerful, as it allows potential customers to find your business when they are actively searching for information.
SEO, on the other hand, is a strategy aimed at improving your business's online visibility and ranking on search engines like Google. This involves optimizing your website's content and structure, incorporating relevant keywords, and building high-quality backlinks. Top industrial marketing agencies like Cleartail Marketing provide expert SEO services, helping your business rank higher in search results and drive more organic traffic to your website.
Brand Strategy and Development
A well-defined and executed brand strategy affects all aspects of a business and is directly connected to consumer needs, emotions, and competitive environments. It provides a clear purpose for why you're in business and why customers should choose your products or services over your competitors. Industrial marketing agencies, with their deep understanding of the industrial sector, can help develop a robust brand strategy that resonates with your target audience and sets you apart in the marketplace.
Content Marketing and Demand Generation
Content marketing is all about creating and distributing valuable, relevant, and consistent content to attract and retain a clearly-defined audience. It's a long-term strategy that focuses on building a strong relationship with your target audience by providing high-quality content that is very relevant to them on a consistent basis.
On the other hand, demand generation involves a variety of marketing efforts to drive awareness and interest in your products or services. It aims to create a demand that your sales team can convert into buyers.
Analytics, Insights, and ROI Measurement
Finally, a top industrial marketing agency understands the importance of data-driven marketing. They offer analytics and insights services to track the performance of your marketing campaigns and measure their impact on your bottom line. This involves using advanced analytics tools to gather data, generate insights, and assess the return on investment (ROI) of your marketing efforts. By understanding what's working and what's not, businesses can make informed decisions and continuously improve their marketing strategies.
In conclusion, a top industrial marketing agency offers a suite of services designed to boost your online presence, attract quality leads, and drive business growth. With a strategic, integrated marketing approach, they can help transform your business, setting you on a path to sustained success in the industrial sector.
Choosing the Right Industrial Marketing Agency: Factors to Consider
Choosing the right industrial marketing agency is a pivotal decision that can significantly impact the trajectory of your business growth. It's not just about hiring a company to do your marketing; it's about partnering with experts who understand your industry and can align your marketing strategies with your business goals. Here are some crucial factors to consider when choosing an industrial marketing agency.
Expertise and Experience in the Industrial Sector
The industrial sector is unique, and its marketing needs differ significantly from other markets. Hence, the first question you should ask is: does the agency have experience and expertise in industrial marketing? Agencies with a proven track record in your industry will understand your challenges, know your competition, and be familiar with the trends impacting your business. They should be able to demonstrate a solid understanding of both online and offline industrial marketing strategies.
Customized Approach vs. Cookie-Cutter Solutions
In the world of industrial marketing, one-size-fits-all doesn't work. Each business is unique, with its own set of challenges and opportunities. A reputable industrial marketing agency will take the time to understand your business, identify your target audience, assess your competition, and create a customized marketing strategy that aligns with your specific goals. Avoid agencies that offer cookie-cutter solutions, as they may not adequately address your business's unique needs.
Team Composition and Dynamics
Another critical factor to consider is the team you'll be working with. A well-rounded team of experts in various fields such as SEO, content creation, design, and analytics can bring diverse perspectives and innovative solutions to your business. It's also essential to consider the dynamics within the team. Do they work well together? Do they communicate effectively? A harmonious team will deliver better results.
Learning from Past Failures
No agency is perfect, and at times, campaigns may not deliver the expected results. What sets the best agencies apart is how they handle these situations. They learn from their mistakes, adapt their strategies, and use the experience to refine their approach. When choosing an industrial marketing agency, ask about their past failures and what they learned from them. This will give you insight into their problem-solving skills and their commitment to continuous improvement.
Choosing the right industrial marketing agency is an investment in your business's future. By considering these factors, you can make an informed decision that will drive your business towards sustained growth and success in the industrial sector.
Cleartail Marketing: Your Partner in Industrial Marketing
In the era of digital transformation, finding the right partner to navigate the intricate landscape of industrial marketing is crucial. With a wealth of experience and a client-centric approach, Cleartail Marketing emerges as your ideal partner in this journey.
Overview of Cleartail Marketing
Established in 2014, Cleartail Marketing has carved a niche for itself in the realm of B2B marketing. With a focus on creating and coordinating holistic marketing strategies, Cleartail ensures that every touchpoint in your business's digital journey is meticulously planned and executed. The agency prides itself on its ability to step in and accelerate business growth, especially for companies that already enjoy a strong customer base, but need help in executing a robust digital marketing strategy.
Services Offered by Cleartail Marketing
Cleartail Marketing offers a wide array of services tailored to meet the unique needs of your business. From acting as your Fractional Chief Marketing Officer and a full marketing department to extending support to your existing marketing team, Cleartail exhibits flexibility in its approach.
Some of the key services offered include Search Engine Optimization to enhance your website's visibility, Pay-Per-Click Advertising to place your business before ready-to-buy customers, Website Design and Development to articulate your message effectively, Email Marketing to keep your audience informed, and Marketing Automation to streamline your marketing efforts.
Why Choose Cleartail Marketing?
The reasons to choose Cleartail Marketing as your industrial marketing partner are manifold. First and foremost, Cleartail boasts of rich experience. Since 2014, they have been working with businesses to help them grow faster by implementing custom digital marketing strategies.
Secondly, they believe in account management that cares. Cleartail is dedicated to building deep relationships with their clients, ensuring all needs are met with the same knowledge and expertise as an in-house employee.
Thirdly, Cleartail values excellent communication. They pride themselves on quick response times, simple-to-understand campaign reporting, and regular review meetings.
Lastly, Cleartail has a proven track record of delivering results. They have a long history of success stories and aim to make every client an example case study.
In conclusion, when it comes to industrial marketing, Cleartail Marketing offers a comprehensive, results-driven approach. With their wide array of services and a customer-centric focus, they can be your trusted partner in realizing your business's digital marketing goals.
Conclusion: Transforming Your Business with Industrial Marketing
In a world where online presence and digital branding are instrumental to business success, recognizing the importance of industrial marketing is critical. However, merely acknowledging its significance isn't enough. You need a team of experts who understand the unique challenges and opportunities in this sector. That's where Cleartail Marketing comes in.
By choosing Cleartail Marketing, you're not merely opting for an agency that offers services like SEO, content marketing, and email marketing. You're choosing a partner that specializes in your industry, understands your customers, and is committed to helping you succeed.
Cleartail Marketing doesn't believe in a one-size-fits-all approach. Their team of experts will work closely with you to understand your business objectives, pain points, and target audience, crafting a customized marketing strategy that delivers results. They leverage their expertise in workflow automation to streamline marketing and sales tasks, improving efficiency and accuracy, reducing costs, and ultimately leading to improved close rates and happier customers.
But it doesn't stop there. Cleartail Marketing is also committed to helping you measure and understand your return on investment. They provide detailed analytics and insights to help you make data-driven decisions and continuously optimize your marketing strategies.
In essence, transforming your business with industrial marketing isn't just about implementing a set of tactics or strategies. It's about partnering with an agency like Cleartail Marketing that understands your industry, tailors its services to your needs, and is resolutely committed to your success.
If you're ready to take your industrial marketing to the next level, Cleartail Marketing is just a click away. Don't settle for less when you can work with the best in the industry. Turn your business goals into reality with Cleartail Marketing today.