Navigating the world of advertising agencies for manufacturing doesn't have to be daunting. If you're a manufacturing business owner, you're likely acutely aware that your business is unique. The complexities of your industry demand an ad agency that doesn't just understand marketing, but has a deep understanding of the industrial and manufacturing sector and its nuances. That's where we, at Cleartail Marketing, come in. As experts in manufacturing advertising, we're acquainted with the needs and challenges of promoting businesses in this industry. Our tailor-made strategies are crafted around your specific marketing requirements.
Few marketing agencies understand that the traditional B2C advertising tactics won't cut it for the industrial sector. You need an agency that comprehends the shift in B2B Industrial and Manufacturing Marketing, hence, spots the right industrial marketing opportunities. Striking that perfect balance between appealing to your diverse customer base and speaking the language they understand can be challenging.
Today, we're giving you a glimpse into the top advertising agencies for manufacturing businesses, and showing you just how to pick the right one for your needs.
Top Advertising Agencies for Manufacturing Businesses:
1. Omnicom Group
2. Publicis Groupe
3. Dentsu Inc.
4. WPP Plc
5. Interpublic
6. Havas
7. Cleartail Marketing
These companies possess considerable experience and mastery in advertising for manufacturing businesses, making them an ideal choice to generate the visibility your business needs. But remember, just picking any agency from this list won't bring you results. You have to select the right one matching your specific requirements. Hence, the search shouldn't end here, instead, it should start here.
To make selecting the right industrial marketing agency a breeze, we've created this comprehensive guide. Stay tuned to learn more!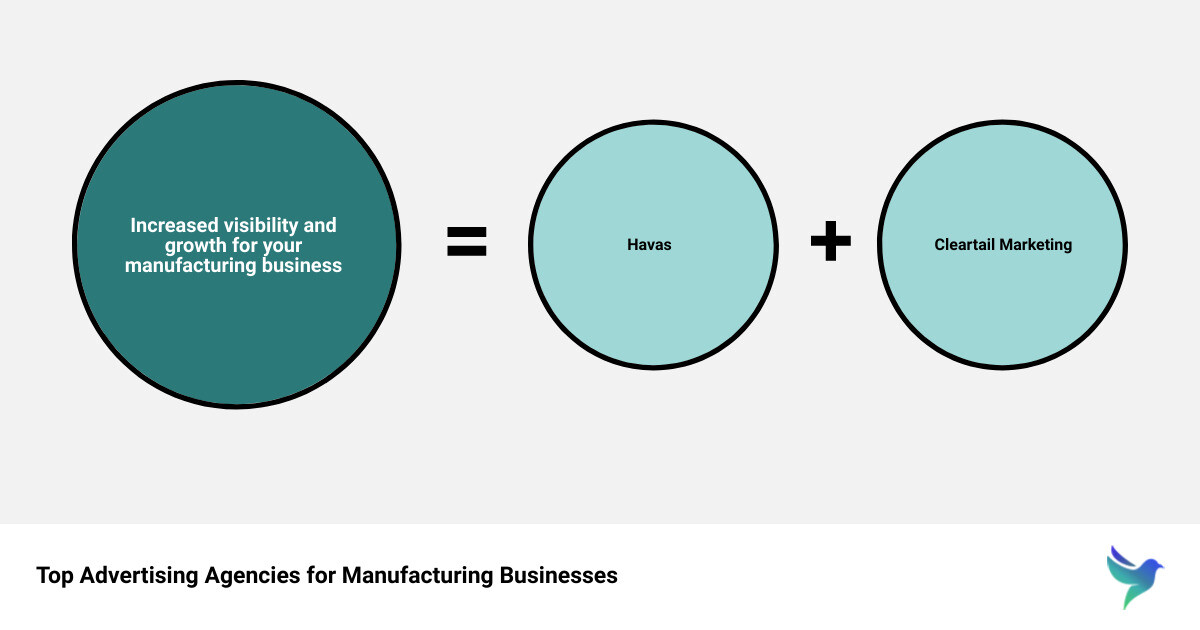 Next, join us in the upcoming sections as we dissect the importance of advertising for your manufacturing business, provide you with essential pointers on choosing the right agency, give you an overview of these top agencies, and let you in on how we here at Cleartail can assist your business to thrive.
The Importance of Advertising for Manufacturing Businesses
In the bustling marketplace of today, getting your products noticed is a challenge, especially when you're in the manufacturing industry. This is where effective advertising comes into play. Whether you're a small-scale manufacturer or an industry giant, advertising is a crucial growth driver for your business. It's not just about making your products known to consumers; it's also about conveying your brand's unique value proposition, building a loyal customer base, and ultimately, boosting sales.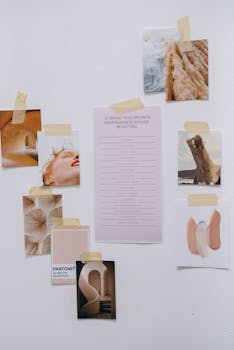 Establishing a strong brand presence
In the manufacturing industry, brand visibility is a game-changer. With a myriad of competitors offering similar products, standing out from the crowd can be tough. Advertising allows you to showcase your brand's unique personality and value proposition, distinguishing you from the competition. It helps to establish a strong brand presence which fosters trust and credibility among potential customers.
Connecting with the right audience
In an industry as vast and varied as manufacturing, it's crucial to target the right audience. Advertising enables you to reach potential customers who are most likely to be interested in your products. Through strategic segmentation and targeting, you can tailor your message to resonate with specific demographics, enhancing the effectiveness of your campaigns.
Boosting sales and revenue
The ultimate goal of any advertising strategy is to drive sales. By effectively conveying the benefits of your products and the value they offer, you encourage potential customers to make a purchase. Moreover, advertising amplifies your reach, exposing your products to a wider audience and thereby increasing sales opportunities.
Navigating the digital landscape
The advent of digital technology has revolutionized the advertising landscape. Now, more than ever, businesses need to optimize their online presence to reach a larger audience. Digital advertising allows you to leverage platforms like search engines, social media, and email, to reach potential customers wherever they are. As our expert at Cleartail Marketing emphasizes, a strategic SEO approach can help you rank at the top of Google results, attracting high-quality traffic — people who are ready to buy your products or services.
In essence, advertising is not a luxury but a necessity for manufacturing businesses. It's an investment that, when done right, can yield substantial returns. However, the key to effective advertising lies in choosing the right agency. In the next section, we'll delve into the crucial factors to consider when selecting an advertising agency for your manufacturing business.
The Shift in B2B Industrial and Manufacturing Marketing
The first step to choosing the right advertising agency for your manufacturing business is understanding the shift in B2B industrial and manufacturing marketing. The old-school tactics of trade show lead generation, cold calling sales, and relationship selling are no longer effective, especially with younger, tech-savvy buyers. Their purchasing journey often starts with internet research, which makes them immune to traditional marketing tactics.
In today's digital era, these buyers are looking for a transparent relationship with brands. They want to connect with your brand on a deeper, more meaningful level rather than just being sold on product benefits. This mindset of "show me why I should care about you" runs contrary to the "all about product benefits" strategy of traditional B2B marketing agencies for manufacturing.
A successful marketing strategy should be anchored by in-depth market research and an intimate understanding of your specific audience, not just a random "save the world" mission glued onto your product. It needs to tell a compelling narrative about how your product impacts people. Without this human connection, your brand risks being drowned out in the noise of countless vendors talking about quality, benefits, and customer service.
At Cleartail Marketing, we understand this shift. As an industrial marketing company, we have extensive experience helping B2B manufacturing, aviation, and industrial companies connect with new audiences. We know how to speak their language and connect with them in the ways they are receptive to. We use digital marketing strategies to target these prospects where they are looking for you, cutting through the noise to reach tech-savvy buyers and established decision-makers.
Our approach to B2B marketing for manufacturers and industrial companies sets us apart from the rest. We begin the process with an in-depth study of your market, your company, and your competitors before we even suggest a single initiative. This level of understanding allows us to create strategies that resonate with your target audience and highlight what makes your brand stand out.
As we move forward, we'll explore some of the top advertising agencies for manufacturing businesses. These agencies, much like us at Cleartail Marketing, understand the shift in B2B industrial and manufacturing marketing and know how to effectively market to today's tech-savvy buyers.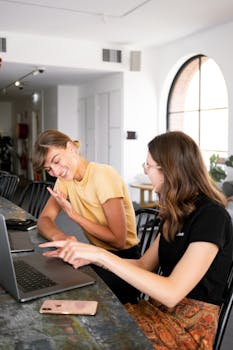 How to Choose the Right Advertising Agency for Your Manufacturing Business
Choosing the right advertising agency for your manufacturing business is a critical decision that can significantly impact your bottom line. It's not just about picking an agency with the biggest name or the flashiest portfolio. Here are some key considerations to help you make an informed decision.
Expertise in the Manufacturing Industry
First and foremost, it's essential to choose an agency that has proven expertise in the manufacturing industry. An agency that understands the unique challenges and opportunities in your field will be best suited to deliver effective strategies and results. At Cleartail Marketing, we pride ourselves on our extensive experience and in-depth understanding of the manufacturing sector. Our team has helped numerous B2B manufacturing, aviation, and industrial companies connect with new audiences and drive growth.
Avoiding Cookie Cutter Approaches
Beware of agencies offering cookie-cutter solutions. Each manufacturing business is unique, and therefore, requires a tailored marketing approach. Your chosen agency should take the time to understand your business, your market, and your competitors before suggesting any initiatives. At Cleartail Marketing, we always start our process with an in-depth study of your market and your company. Our strategies are anchored by thorough market research, ensuring what we offer is not a random pick but a solution specifically designed for your business.
Getting to Know the Team
It's also crucial to get to know the team you'll be working with. As suggested by The Agency Arsenal, ask for a call with the accounts team and even the creative team to gauge their approach and communication style. You'll be working closely with this team, and it's essential to ensure they are transparent, reliable, and aligned with your business goals. At Cleartail Marketing, our team of marketing experts is always ready to discuss your needs and show you how we can deliver value.
Learning from Past Failures
Finally, don't shy away from asking about their failures. Every agency has lost accounts, and there's always a lesson to be learned from these situations. Ask how they handled it and what they learned from it. This will give you an insight into their problem-solving abilities and their commitment to continuous improvement. At Cleartail Marketing, we believe in learning from our mistakes, and we're transparent about our journey. Our commitment to growth and quality service delivery is unwavering.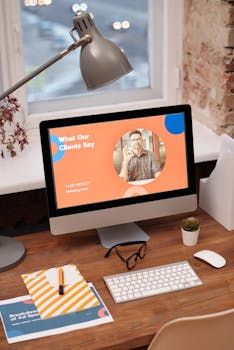 In conclusion, choosing the right advertising agency for your manufacturing business involves a careful evaluation of their industry expertise, bespoke service delivery, team composition, and learning culture. At Cleartail Marketing, we tick all these boxes, offering comprehensive and tailor-made marketing services to help your manufacturing business thrive.
Top Advertising Agencies for Manufacturing Businesses
Now that we've explored how to choose the right advertising agency, let's dive into some of the top players in the field. These advertising giants have demonstrated an outstanding track record in the manufacturing sector, providing innovative and effective marketing solutions.
Omnicom Group
Omnicom Group is a global leader in marketing communications. With a strong presence in over 100 countries, the New York City-based agency has vast experience working with manufacturers and industrial clients. They leverage advanced data analytics and creative strategies to deliver campaigns that resonate with target audiences and drive business growth.
Publicis Groupe
Headquartered in Paris, Publicis Groupe operates on a global scale, providing a spectrum of advertising services. They possess a deep understanding of the manufacturing industry, which is reflected in their innovative marketing strategies that cater specifically to this sector.
Dentsu Inc.
Dentsu, based in Tokyo, is an international advertising and public relations giant. They have a robust portfolio of successful campaigns for manufacturing businesses, demonstrating their ability to navigate the unique challenges of the industry.
WPP Plc
WPP Plc is another top-notch agency that specializes in diverse areas such as media buying, creative production, digital display, and social media advertising. Their expertise in the manufacturing sector has helped numerous businesses amplify their brand and reach their target customers effectively.
Interpublic
Interpublic has carved out a niche for itself in the advertising industry with its innovative and data-driven marketing solutions. Their deep industry knowledge and creative prowess make them an excellent choice for manufacturing businesses looking to boost their advertising efforts.
Havas
Havas is a renowned name in the advertising world with an impressive track record in the manufacturing sector. They offer a holistic approach to advertising, combining traditional and digital marketing techniques to deliver impactful campaigns.
Selecting the right advertising agency for your manufacturing business is crucial to your marketing success. However, we at Cleartail Marketing understand that not every business has the resources to hire these big-name agencies. That's why we offer affordable, yet effective marketing services tailored specifically for small to medium-sized manufacturing businesses. With our expertise in SEO, PPC, and email marketing, we can help you compete with the big players in your industry and boost your online presence.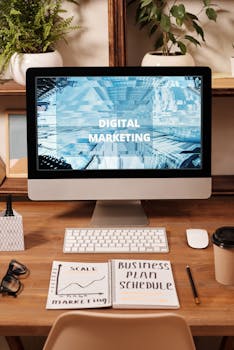 How Cleartail Marketing Can Boost Your Manufacturing Business
When it comes to manufacturing advertising, not all agencies are created equal. At Cleartail Marketing, we've built our reputation on delivering ROI-driven solutions specifically tailored for the manufacturing industry. Here's how we can help your business reach new heights.
Proven Experience in the Manufacturing Industry
Our extensive experience in the manufacturing sector sets us apart from other digital marketing agencies. Since 2014, we've been working closely with businesses in this sector, implementing custom digital marketing strategies tailored to their unique needs. We understand the nuances, challenges, and opportunities associated with manufacturing marketing, and leverage this understanding to deliver successful campaigns for our clients. Our results have been incredibly successful, but we understand that digital marketing is always evolving. We continuously improve our skills and knowledge to deliver the best campaigns possible for our clients.
Comprehensive Digital Marketing Services
We offer a wide array of digital marketing services to help drive more leads for our manufacturing clients. Whether it's Search Engine Optimization, Pay-Per-Click Advertising, Website Design and Development, Email Marketing, Marketing Automation or Reputation Management, we've got you covered. Our strategies are custom-tailored to each client's needs and we consistently exceed expectations to help grow our client's businesses.
In addition, we integrate print advertising into your digital marketing campaigns. We use tactics like call tracking and QR codes with unique URLs to track the effectiveness of your print ads. By doing so, we provide you with valuable data to optimize your marketing budget and make more informed decisions.
Building Strong Client Relationships
We pride ourselves on building deep relationships with our clients and are committed to making sure all needs are met. We take the time to understand your business, your goals, and your unique challenges. We believe in clear, open communication and always keep you informed about the steps we are taking to deliver successful results. We understand that the expectation is to be just as knowledgeable as an in-house employee would be. We take this very seriously and as a result, we have long, successful relationships with our clients.
In conclusion, at Cleartail Marketing, we offer the expertise, comprehensive services, and strong client relationships that your manufacturing business needs to succeed in today's digital landscape. Contact us today to learn how we can help boost your manufacturing business.
Manufacturing is an industry that thrives on precision, efficiency, and innovation. The same values hold true when it comes to marketing and advertising in this sector. It's all about finding the right partner who understands your unique challenges and goals.
The top advertising agencies for manufacturing businesses, such as Omnicom Group, Publicis Groupe, Dentsu Inc., WPP Plc, Interpublic, and Havas, have set a high standard. They have proven track records in delivering effective campaigns that resonate with the target market and drive results. But remember, the biggest names may not always be the best fit for your specific needs.
This is where we, at Cleartail Marketing, come in. We pride ourselves on our proven experience in the manufacturing industry. Our comprehensive digital marketing services, including SEO, Email Marketing, PPC advertising, Marketing Automation, WordPress Website Design & Development, and Reputation Management, are all designed to meet the unique needs and goals of our clients.
We believe in building strong client relationships. We are your partners, an extension of your team, striving to understand your business and its nuances. We avoid cookie-cutter approaches and instead, tailor strategies based on your specific needs and objectives.
In the ever-evolving digital marketing landscape, Cleartail Marketing is your trusted partner. We're here to help you reach your target audience, increase your visibility, grow your revenue, and ultimately, keep your manufacturing business ahead of the competition.
Whether you're a small manufacturing business looking to make your mark, or a large established brand seeking to maintain your industry leadership, Cleartail Marketing has the expertise and solutions you need.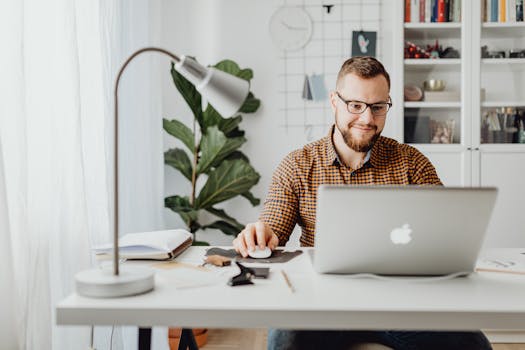 Remember, the success of your business in this digital era does not just depend on having a strong product or service. It's also about finding the right marketing partner who can help you navigate through the complexities of the digital world and drive your business forward.
So, are you ready to boost your manufacturing business with top advertising expertise? Contact us today to learn more about how Cleartail Marketing can help you achieve your business goals.
In the world of manufacturing, it's all about precision, efficiency, and progress. Let's bring these same principles to your marketing strategy. Let's grow together.