Introduction: The Power of B2B Manufacturing Marketing Agencies
In today's hyper-connected digital world, the power of B2B manufacturing marketing agencies cannot be overstated. These specialized agencies hold the key to unlocking the vast potential of the digital marketplace for manufacturers. With a deep understanding of the unique needs and challenges of B2B manufacturers, they provide tailored strategies that target the right audience, engage potential customers, and drive sales.
The traditional marketing techniques of selling product benefits or relying solely on trade shows and cold calls are no longer enough. Today's tech-savvy buyers begin their purchasing journey with online research and are immune to these outdated tactics. Instead, they seek a transparent relationship with brands, based on a genuine connection and clear value proposition.
That's where B2B manufacturing marketing agencies come in. They leverage the power of digital marketing to help manufacturers connect with their audience where they are – online. They use advanced tools and strategies, such as SEO, PPC, email marketing, content marketing, and more, to reach potential customers and convert them into loyal buyers.
Yet, navigating the landscape of B2B manufacturing marketing agencies can be a daunting task. With so many agencies offering a plethora of services, how do you choose the right one for your business? In this article, we will explore the role and benefits of B2B manufacturing marketing agencies, how to choose the right one, and how Cleartail Marketing stands out in this arena. So, if you're a B2B manufacturer looking to amplify your digital presence and accelerate your growth, this is for you. Let's dive in!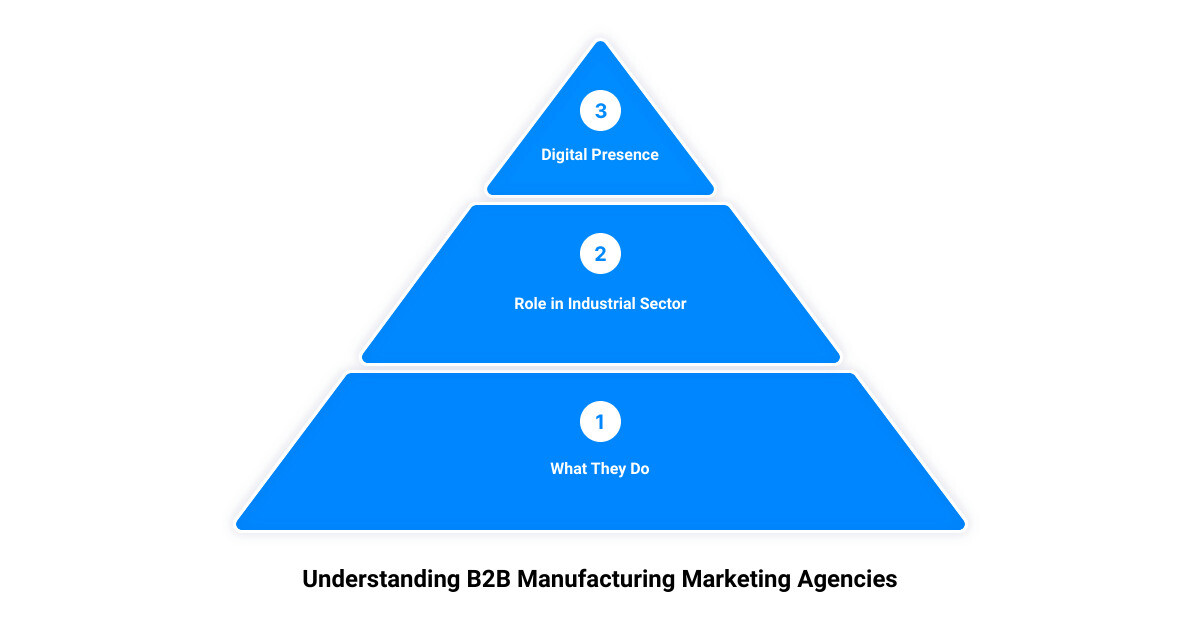 Understanding B2B Manufacturing Marketing Agencies
Understanding the role of a B2B manufacturing marketing agency is the first step to unlocking the power of digital strategies for your business. A well-rounded understanding of these agencies allows you to leverage their expertise to the maximum.
What Does a B2B Manufacturing Marketing Agency Do?
A B2B manufacturing marketing agency specializes in crafting and executing marketing strategies that cater specifically to businesses in the manufacturing sector. Such agencies are well-versed in the unique challenges and opportunities that manufacturers face in the B2B landscape.
These agencies help manufacturers communicate the value of their products to potential clients, drive lead generation, and nurture long-term relationships with customers. They do this through a combination of marketing techniques, which may include website design and development, PPC advertising, SEO, email marketing, and marketing automation.
A B2B manufacturing marketing agency like Elevation B2B, for instance, goes beyond selling the product's benefits. It focuses on building an authentic connection with consumers, a marketing strategy that resonates with the new tech-savvy generation of buyers. The agency uses digital marketing to reach these prospects, understanding their purchasing behaviors and how to capitalize on these facts.
Are Digital Marketing Agencies B2B?
While not all digital marketing agencies are B2B, many specialize in serving B2B businesses, including manufacturers. These agencies, like Cleartail Marketing, play a crucial role in helping B2B businesses thrive in the digital age. They have a proven track record of helping B2B clients achieve their marketing goals, regardless of their size or industry.
The Role of B2B Manufacturing Marketing Agencies in the Industrial Sector
In the industrial sector, B2B manufacturing marketing agencies play a critical role in shaping and driving the marketing strategies of manufacturing companies. They are instrumental in helping these companies reach their target audience, improve brand awareness, and drive sales using Internet-based channels.
A proficient B2B manufacturing marketing agency understands the manufacturing industry's intricacies, including the sales cycles, compliance requirements, and the technical nature of the products. They leverage this understanding to create tailored strategies that resonate with the target audience and yield measurable results.
In addition, these agencies often offer services such as branding, lead generation, sales enablement, integrated marketing, and analytics. They also specialize in digital marketing aspects like SEO, PPC, and social media marketing, which are critical in today's digital-first world.
In conclusion, B2B manufacturing marketing agencies play an integral role in the industrial sector, helping manufacturers navigate the complexities of B2B marketing and drive business growth. Their expertise in the manufacturing industry, coupled with their proficiency in digital marketing strategies, makes them invaluable partners for manufacturers looking to scale their operations and reach new heights.
Choosing the Right B2B Manufacturing Marketing Agency
Choosing a B2B manufacturing marketing agency can be a crucial step for your business. It can mean the difference between a stagnating business and one that thrives, between being lost in the sea of competitors and standing out with a distinct brand voice.
Identifying Your Business Needs
The first step in choosing a B2B manufacturing marketing agency is identifying your business needs. You must gain a clear understanding of your objectives and what you want to achieve with your marketing efforts. Are you looking to increase brand awareness, drive more leads, or improve your online presence? Perhaps you want to enhance your content marketing strategy, or you need assistance with SEO and PPC. Once you've defined your needs, you can then look for an agency that specializes in those areas and has a proven track record of delivering results.
Evaluating Potential Agencies
After identifying your business needs, the next step is evaluating potential agencies. This involves assessing their experience in your industry, their portfolio quality, the transparency of their pricing structure, and the results they have delivered for other clients. You may want to look for agencies that have worked with businesses similar to yours and have managed to help them achieve their goals. Testimonials and case studies can be a great way to gauge an agency's effectiveness. Furthermore, agencies that make an effort to stay updated with the latest trends and technologies in digital marketing can offer you a competitive edge.
The Importance of Long-Term Client Relationships
Finally, a crucial factor to consider when choosing a B2B manufacturing marketing agency is the importance of long-term client relationships. You want to partner with an agency that is dedicated to building deep relationships with its clients and committed to meeting their needs. At Cleartail Marketing, for example, they take this responsibility very seriously, constantly looking for ways to improve their clients' SEO campaigns, providing excellent communication, and delivering proven results.
Choosing the right B2B manufacturing marketing agency is not just about hiring a service provider, but about forming a partnership that will help your business grow. This process requires careful thought and consideration but the payoff of finding the right agency can be immense, leading to improved brand visibility, increased leads and sales, and ultimately, business growth.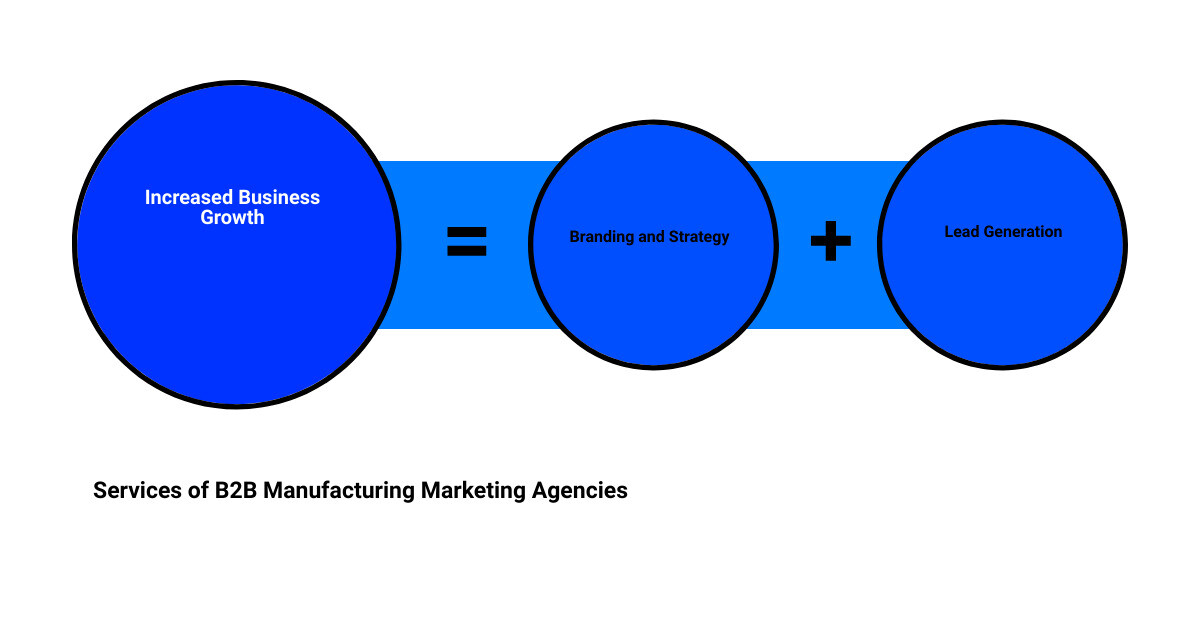 The Services Offered by B2B Manufacturing Marketing Agencies
To navigate the complex world of digital marketing and stay competitive, B2B manufacturers require a diverse range of services. These services are designed to not only promote their products but also to create a brand that resonates with their target audience, generate valuable leads, and optimize their online presence.
Branding and Brand Strategy
In today's highly competitive B2B market, having a strong brand identity is crucial. A B2B Manufacturing Marketing Agency like Cleartail Marketing helps businesses define their brands, align their messaging, and build a brand strategy that sets them apart from the competition. This process includes everything from market research to creative branding initiatives, such as logo design and brand guidelines. A well-crafted brand strategy helps businesses connect with their target audience, establish credibility, and create a lasting impression.
Sales Enablement and Lead Generation
At the core of any successful B2B marketing strategy is the ability to generate high-quality leads. Agencies offer services such as Account Based Marketing (ABM), lead generation, and sales enablement to help businesses attract and engage potential customers. They leverage various digital channels, including social media, email marketing, and content marketing, to drive traffic and convert leads into customers. Additionally, they implement sales enablement strategies to equip the sales team with the necessary tools, content, and information to close deals more effectively.
Integrated Marketing and Analytics
Integrated marketing is all about creating a unified and seamless experience for consumers across all channels. It involves the strategic blending of various marketing methods such as digital, display, media, social media, SEO, and PPC to communicate a consistent and compelling message. Besides, agencies also provide analytics services to monitor the performance of marketing campaigns, identify trends, and make data-driven decisions. They use advanced analytics tools to track key performance indicators (KPIs) and provide insights that help businesses optimize their marketing efforts.
SEO, PPC, and Digital Marketing
In the digital age, having a strong online presence is no longer optional – it's a necessity. B2B manufacturing marketing agencies offer services such as Search Engine Optimization (SEO), Pay-Per-Click (PPC) advertising, and digital marketing to help businesses rank higher on search engine results, attract more online traffic, and increase their digital visibility. They also offer email marketing, marketing automation, and reputation management services to bolster the digital marketing strategy.
Remember, the goal isn't just to have an online presence, but to have an optimized online presence that increases visibility, attracts high-quality leads, and converts these leads into customers. With the right strategies and tools, a B2B manufacturing marketing agency can significantly enhance your digital marketing efforts and drive business growth.
Case Study: How Cleartail Marketing Empowers B2B Manufacturers
In a world where digital marketing is no longer a luxury but a necessity, Cleartail Marketing stands out as a B2B manufacturing marketing agency that truly understands the needs of manufacturers and delivers results that make a real difference.
Cleartail Marketing: A Comprehensive Digital Marketing Solution
Cleartail Marketing is more than just a marketing agency—it's a comprehensive digital marketing solution for businesses looking to make their mark in the digital world. With a suite of services including SEO, PPC, Web Design and Development, and Email Marketing, Cleartail Marketing takes a holistic approach towards helping businesses achieve their marketing goals.
Their commitment is to deliver a professional website, articulate your message to potential customers, and optimize all pages for search engines. Through their SEO services, they ensure your website is recommended by search engines like Google when potential customers are searching for your business. Their PPC strategies place your business in front of ready-to-buy customers searching for your products and services, while their email marketing tactics educate your current and potential customers about what your business has to offer.
Proven Results and Strong Client Relationships
Cleartail Marketing's success can be seen in the glowing testimonials from their satisfied clients. For instance, Bridgesaw.com, whose sales grew by 278% within a year of working with Cleartail Marketing, and Heart Certified Autocare, who experienced a 41% growth in calls. These are not just numbers, but real stories of businesses that have experienced significant growth and success through the strategic digital marketing solutions provided by Cleartail Marketing.
A key factor in Cleartail Marketing's success is their dedication to building deep relationships with their clients. They understand that the expectation is to be just as knowledgeable as an in-house employee would be, and they take this very seriously. As a result, they have long, successful relationships with their clients who trust them with their marketing needs.
Cleartail Marketing's Unique Selling Proposition
What sets Cleartail Marketing apart from other B2B manufacturing marketing agencies is their commitment to continuous learning and improvement. Since 2014, they have been working with businesses to help them grow faster by implementing custom digital marketing strategies tailored to their needs. Their results have been incredibly successful, but they have been around long enough to understand that digital marketing is always evolving. Therefore, they continuously improve their skills and knowledge to deliver the best campaigns possible for their clients.
Furthermore, their campaign reporting is simple to understand, and they pride themselves on quick response times, ensuring that clients are always kept in the loop about their marketing strategies. In essence, Cleartail Marketing not only delivers proven results but also fosters strong client relationships through excellent communication and a genuine commitment to their clients' success.
In an age where the digital landscape is constantly changing, Cleartail Marketing has proven to be a reliable and effective partner for B2B manufacturers looking to elevate their online presence and drive business growth.
The Future of B2B Manufacturing Marketing
The world of B2B manufacturing marketing is not what it was a decade ago. The rise of digital strategies and the advent of Industry 4.0 have revolutionized the way B2B manufacturers reach out to their customers. These changes are not just trends but a new reality that manufacturers need to embrace if they want to stay relevant and competitive.
The Rise of Digital Strategies in B2B Manufacturing Marketing
The digital revolution has fundamentally changed the game for B2B manufacturers. No longer do traditional marketing techniques like tradeshows and cold calling sales cut it. The advent of the internet and the rise of the tech-savvy consumer have necessitated a shift towards digital strategies that target the customer where they are looking for you.
Companies like Cleartail Marketing have stepped up to this challenge by offering digital marketing services like SEO, PPC, and content marketing. These strategies help businesses improve their online presence, reach a wider audience, and build a strong brand. But it's not just about being online; it's about being found online. SEO, for instance, is an essential tool for improving your website's visibility and driving organic traffic to your site.
This shift towards digital marketing is not a passing fad but a necessary adaptation to the changing consumer behavior. The modern consumer starts their purchasing journey with internet research, making them immune to traditional marketing tactics. They crave transparency and authenticity, and digital strategies provide the perfect platform for manufacturers to connect with their consumers in a real and meaningful way.
How B2B Manufacturing Marketing Agencies are Adapting to Industry 4.0
Industry 4.0 refers to the fourth industrial revolution, characterized by the integration of digital technology into manufacturing processes. This shift towards automation and data exchange is transforming the manufacturing industry, and B2B manufacturing marketing agencies are adapting to stay ahead of the curve.
For instance, agencies are leveraging the power of data analytics to gain insights into consumer behavior and trends. This data-driven approach allows them to tailor their marketing strategies to suit the specific needs and preferences of their target audience.
Moreover, agencies are embracing innovative technologies like AI and machine learning to automate marketing tasks and improve efficiency. Cleartail Marketing, for example, offers workflow automation services to help businesses automate their marketing and sales tasks, resulting in increased efficiency, reduced costs, and improved customer satisfaction.
The future of B2B manufacturing marketing lies in the ability to adapt to the rapidly changing digital landscape. The rise of digital strategies and the advent of Industry 4.0 present both challenges and opportunities. B2B manufacturing marketing agencies like Cleartail Marketing are at the forefront of these changes, helping manufacturers navigate the digital world and achieve their business goals.
Conclusion: The Impact of B2B Manufacturing Marketing Agencies on the Industrial Sector
As we've explored throughout this article, the role and impact of B2B manufacturing marketing agencies within the industrial sector is transformative. They don't merely market products, but forge strong relations, build brand identities, enable sales, and generate leads. They use the power of digital strategies, such as SEO, PPC, and integrated analytics, to ensure businesses grow and thrive in the modern, tech-savvy marketplace.
These agencies, like Cleartail Marketing, are more than just service providers. They are partners, strategists, and growth accelerators for small to medium-sized businesses seeking to expand their online presence and boost their sales.
The advent of Industry 4.0 has dramatically altered the landscape of B2B manufacturing marketing. The rise of digital strategies has not only transformed how products are marketed but also how consumers make purchasing decisions. The modern consumer is tech-savvy, and their purchasing journey begins with thorough online research. This shift in consumer behavior has made digital marketing not just beneficial, but essential for B2B manufacturers.
B2B manufacturing marketing agencies understand these shifts and provide tailored strategies that cater to the evolving demands of the market. They help businesses adapt to these changes, ensuring their digital marketing strategies are not only current but are also designed to capitalize on future market trends.
In conclusion, B2B manufacturing marketing agencies like Cleartail Marketing are a vital cog in the machinery of the industrial sector. Their expertise and digital marketing strategies play a critical role in helping B2B manufacturers navigate the digital landscape, connect with their target audiences, and ultimately, drive their business growth. As the digital age continues to evolve, so too will the strategies and services provided by these agencies, ensuring they continue to deliver value and drive success for their clients.