Introduction: The Power of Marketing Automation
In the fiercely competitive digital marketplace, standing out can feel like an uphill battle. For small to medium-sized business owners, the challenge of reaching target audiences, generating organic traffic, and effectively deploying digital marketing strategies can seem insurmountable. However, there's a beacon of hope in the form of marketing automation. Leveraging the power of marketing automation can transform your business, boosting efficiency, scalability and, most importantly, sales. It's no wonder that more and more businesses are looking to hire marketing automation consultants to unlock their full potential.
Marketing automation, a blend of strategy and software, can streamline, automate, and measure marketing tasks and workflows, increasing operational efficiency and accelerating revenue growth. It's like having a dedicated multi-tasking digital team working round the clock. This efficiency not only leads to cost reduction in staffing but also increases accountability of marketing and sales teams, making it an integral part of modern-day digital marketing.
By choosing to hire marketing automation consultants, businesses can equip their marketing teams with an analytical, as well as artistic touch. These experts help in organizing marketing efforts, ensuring efficacy in marketing multiple channels online, and automating repetitive tasks to increase sales through lead conversions.
This article will delve into the power of marketing automation, the role of marketing automation consultants, and how you can unlock success by hiring one. So, if you're a business owner seeking to boost your online presence and sales, keep reading and discover how Cleartail Marketing can be your trusted partner in your marketing automation journey.
What is Marketing Automation?
In the digital world, marketing automation has emerged as a game-changer for businesses, especially for those looking to scale their operations and reach a wider audience. But what is marketing automation? At its core, marketing automation is the use of technology to automate marketing processes, making them more efficient and effective.
The Role of Technology in Marketing Automation
Technology plays a central role in marketing automation. It serves as the backbone that drives the automation process, allowing businesses to manage their marketing campaigns across various channels seamlessly. From email marketing and social media campaigns to lead nurturing and automated chatbot communication, these processes can be automated with the help of marketing automation tools.
These tools are designed to save businesses time and money while optimizing their campaigns to drive revenue growth. They can be as simple as email automation tools or as complex as Customer Relationship Management (CRM) systems that integrate with other business systems to provide a comprehensive view of customer interactions.
Some of the popular marketing automation tools include Sharpspring, HubSpot, Pardot, and Marketo, each with its unique features and capabilities. The cost of implementing a marketing automation tool can vary depending on the size of your business and the features you need, ranging from $300/month to $2000/month or more.
Multifunctional Campaigns and Marketing Automation
Marketing automation is not just about automating tasks; it's about creating multifunctional campaigns that work across different channels. This means that with marketing automation, businesses can target customers with automated messages across email, web, social, and text, ensuring a consistent and personalized customer experience.
For instance, if a potential customer visits your website and fills out a form to download a free guide, a marketing automation tool can automatically send an email thanking them for their download. It can then schedule follow-up emails offering related products or services, increasing the chances of conversion.
Moreover, marketing automation can help businesses track the success of their campaigns, providing important insights that can be used to fine-tune future efforts.
In the next section, we will delve into the role of a marketing automation consultant and why hiring one can be a smart move for businesses looking to maximize their marketing efforts.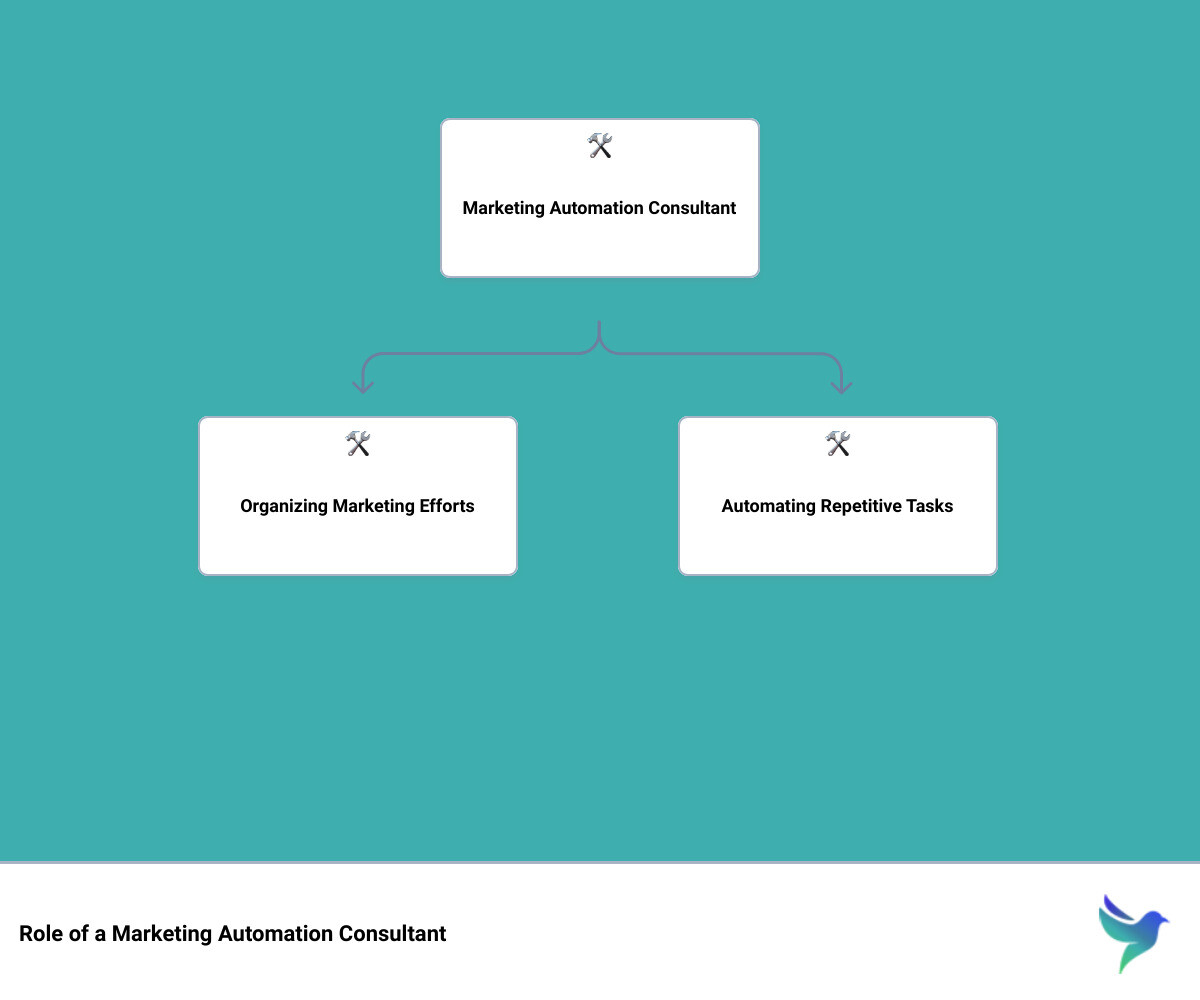 The Role of a Marketing Automation Consultant
Marketing Automation Consultants are the secret ingredient in transforming your marketing strategy into a streamlined, efficient, and effective machine. They bring a unique blend of analytical and creative skills to the table, working to organize marketing efforts, ensure efficacy across multiple online channels, and automate repetitive tasks to drive increased sales.
Organizing Marketing Efforts
A marketing automation consultant plays a vital role in organizing your marketing efforts. They help businesses plan and execute marketing strategies, ensuring that all tasks are correctly set up and executed within the chosen marketing automation software. They provide the much-needed technical support, train your team on using the software, and coordinate all the necessary elements – content, design, development – for successful marketing campaigns. They also assist in integrating your marketing automation software with any third-party platforms required for the campaign.
Ensuring Efficacy in Marketing Multiple Channels Online
The digital landscape is vast, with multiple channels to engage and attract potential customers. A marketing automation consultant ensures efficacy across all these channels. They help businesses create unified automated messages and implement them across various marketing channels, achieving cross-channel conformity. This approach helps to optimize the customer journey, ensuring that the right content is delivered at the right time, resulting in higher engagement and conversion rates.
Automating Repetitive Tasks for Increased Sales
Automation is at the heart of what a marketing automation consultant does. They help businesses automate repetitive tasks, such as email marketing, social media posts, and customer follow-up. This automation not only saves time but also ensures that these tasks are performed consistently, leading to increased sales.
For instance, automated email marketing can help nurture leads by sending personalized messages at critical stages of the customer journey. Similarly, automating social media posts ensures that your brand remains active and engaged with its audience without the need for manual intervention.
In conclusion, the role of a marketing automation consultant is dynamic and multi-faceted. They bring a strategic approach to your marketing efforts, ensuring that your campaigns are well-organized, effective across multiple channels, and automated for efficiency and increased sales. By hiring a marketing automation consultant, businesses can unlock the full potential of their marketing automation software, resulting in a more robust and successful marketing strategy.
Why Hire a Marketing Automation Consultant?
A marketing automation consultant can be the catalyst that propels your business to new heights. But why should you hire one? Let's delve deeper into the benefits of marketing automation and how a consultant can make all the difference.
The Benefits of Marketing Automation: Does it Really Work?
Marketing automation is not just a buzzword—it's a game-changer. It automates repetitive tasks, streamlines your marketing efforts, and delivers personalized content to your customers—all of which can lead to increased sales. But does it really work? The answer is a resounding yes.
Marketing automation has been proven to be effective in managing marketing processes and executing multifunctional campaigns across multiple channels. By automating these processes, businesses can target customers with personalized messages, improving their engagement rates and ultimately driving more conversions.
Saving Time and Increasing Efficiency with Marketing Automation
At its core, marketing automation is all about efficiency. By automating repetitive tasks, your team can save valuable time and focus more on strategic initiatives. A marketing automation consultant comes into play here by helping your team navigate the complexities of marketing automation software, enabling them to use the tools more effectively and efficiently.
Beyond just saving time, a consultant can also help your business reduce the risk of errors. With their expertise, they can quickly detect any problems with your sales funnel and provide solutions. This decreases the risk of trials and errors, saving you not just time but also potential costs.
Enhancing Customer Relationships through Marketing Automation
In the era of personalization, customers expect interactions with brands to be tailored to their needs and preferences. Marketing automation enables businesses to scale personalization, improving the customer experience and nurturing relationships.
A marketing automation consultant can help you leverage marketing automation tools to enhance customer relationships. They can guide you in setting up automated messages across different channels, personalizing the customer's experience at every touchpoint. This kind of personalized interaction helps build stronger relationships with your customers, leading to increased loyalty and ultimately, higher sales.
In conclusion, hiring a marketing automation consultant is a strategic move that can equip your business with the right tools and expertise to navigate the digital marketing landscape. With their help, you can unlock the full potential of marketing automation, giving your business a competitive edge.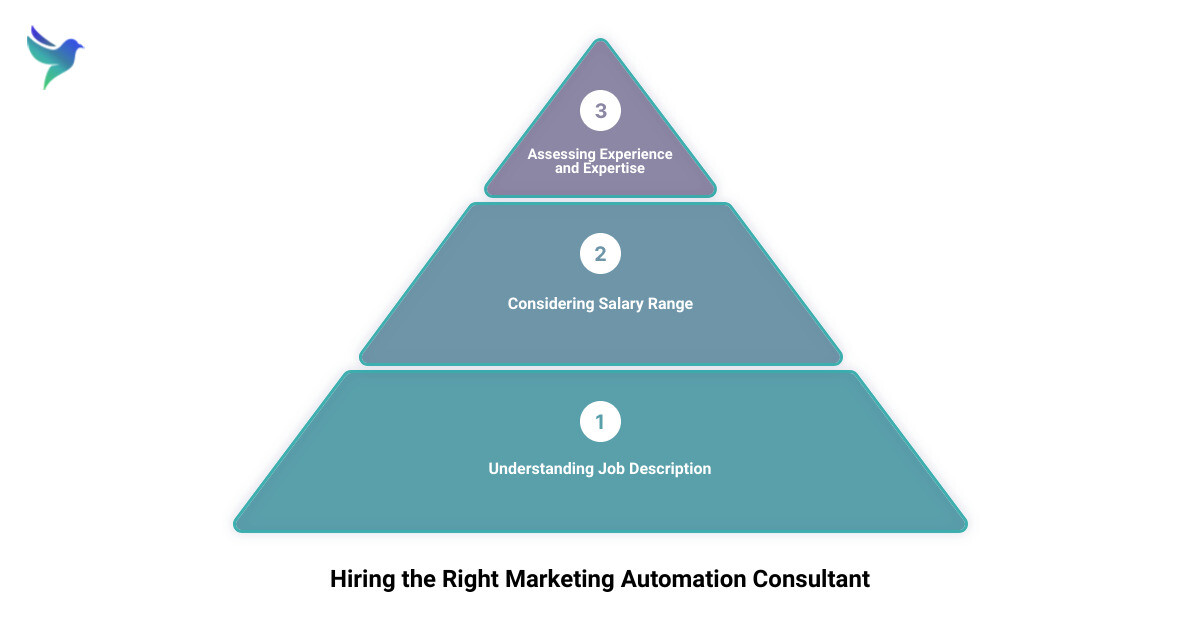 How to Hire the Right Marketing Automation Consultant
Embarking on the journey of hiring a marketing automation consultant for your business can feel daunting, especially given the critical role they play in your marketing success. But worry not! Here's a roadmap to guide you.
Understanding the Job Description of a Marketing Automation Consultant
A marketing automation consultant is not just another employee. They're a specialist who brings an analytical and artistic touch to your marketing team. They organize your marketing efforts, ensuring efficacy in marketing across multiple online channels. They automate repetitive tasks to increase lead conversions and sales.
The right consultant will not just adapt to your current automation series but will improve upon it. They'll devise a systematic, transparent approach to optimize your marketing campaign. This doesn't merely involve setting up the marketing automation framework but also improving the existing one.
Considering the Salary Range for Marketing Automation Consultants
The cost of hiring a marketing automation consultant can greatly depend on their experience, skill set, and the services they offer. You may want to consider hiring a consultant as opposed to a full-time employee due to potentially significant cost savings. With a consultant, you pay only for the time you need, saving on benefits, vacation days, sick days, and other associated costs.
To get an accurate estimate, reach out to different consultants and ask for a proposal. This will allow you to compare rates and services to find the best fit for your budget.
The Importance of Experience and Expertise in Marketing Automation
Experience in marketing automation is paramount. This can be gained through internships, volunteer work, or personal projects, but it's also beneficial to have experience in marketing, sales, or customer service roles. This gives the consultant a holistic understanding of the industry and how marketing automation fits into the larger picture.
Ensure your consultant is ROI delivery-oriented, meaning they're focused on results. Every effort put into marketing should pay off, and a good consultant will find ways to propel tasks forward, even beyond using the available tools.
Moreover, an expert consultant should be organized, self-motivated, and able to easily retrieve the required data from extensive pools of potential customers. You should request previous results or a portfolio that demonstrates their expertise, and ideally, something that aligns closely with your expectations.
Hiring the right marketing automation consultant is a crucial step towards your business's growth. With their help, you can not only navigate the complex world of marketing automation but also unlock untapped potential for success. So, ready to hire? Trust Cleartail Marketing to connect you with the best marketing automation experts in the field.
Cleartail Marketing: Your Trusted Partner for Marketing Automation
When it comes to marketing automation, there's no one size fits all solution. Every business has unique needs and goals that require tailored solutions. That's where Cleartail Marketing steps in. As your trusted partner in marketing automation, we offer a range of services designed to meet your unique needs and drive your business forward.
Our Services: From SEO to Social Media Management
At Cleartail Marketing, we provide an extensive array of digital marketing services. Whether you're looking to improve your search engine rankings with SEO, reach more potential customers through Pay-Per-Click Advertising (PPC), or engage your audience with Email Marketing, we've got you covered. We also offer WordPress Website Design & Development and Reputation Management services to ensure your online presence is both compelling and trustworthy.
Our Unique Selling Proposition: Experience, Proven Results, and Strong Client Relationships
What truly sets us apart at Cleartail Marketing is our unique combination of experience, proven results, and strong client relationships. Since 2014, we have been working tirelessly to help businesses grow faster by implementing custom digital marketing strategies. Our success is reflected in the numerous testimonials from our clients, demonstrating our unwavering commitment to delivering successful results.
Our approach is characterized by deep relationships with our clients, coupled with excellent communication and account management that cares. We take the time to understand your business and its unique needs before crafting a custom-tailored digital marketing strategy. With us, you're not just a client; you're a partner, and your success is our success.
Our Reach: Serving Businesses in the United States and Canada
While our base is in the United States, our digital expertise knows no boundaries. We proudly serve businesses both in the United States and Canada, bringing our wealth of digital marketing knowledge and expertise to diverse industries. Regardless of your location or industry, we're ready to help you unlock the power of marketing automation and propel your business to new heights.
In a world where digital marketing is continuously evolving, Cleartail Marketing remains steadfast in our commitment to help businesses navigate the changing landscape and achieve their digital marketing goals. Begin your marketing automation journey with us and unlock your business's full potential.
Conclusion: Unlock Your Business Success with Cleartail Marketing
In the realm of digital marketing, the name of the game is adaptability and innovation. With the increasing reliance on automation tools, it becomes imperative to have an expert by your side. Cleartail Marketing, your trusted partner in the marketing automation journey, offers you just that – expertise, experience, and results.
Our team of dedicated marketing automation consultants are adept at harnessing the power of marketing automation for generating prospects, advising on campaign areas that need automation, utilizing marketing resources, and quickly detecting problems with your sales funnel. We excel at reducing wastage of resources, saving you both time and money, and curbing the risk of trials and errors in your marketing campaigns.
Moreover, we believe in the power of personalized customer experiences. Through tools such as CRM platform integration and chatbot implementation, we ensure a seamless and tailored customer journey that leads to increased customer engagement and conversion rates.
Whether you are a small business looking to grow or a medium-sized enterprise aiming to expand, our range of services – from SEO to Social Media Management – is designed to meet your unique needs. We understand that no two businesses are the same and therefore, we offer customized solutions, tailored to your specific business goals and challenges.
Our unique selling proposition is our commitment to delivering proven results and fostering strong client relationships. With a wide reach, serving businesses across the United States and Canada, we have helped numerous clients achieve remarkable growth in their online presence and sales.
In conclusion, marketing automation is not just a buzzword but a crucial aspect of modern digital marketing. With the right consultant, it can be the key to unlocking your business's success. So why wait? Reach out to us at Cleartail Marketing and let us help you set your marketing automation journey in motion. Remember, with Cleartail Marketing, the path to success is clear.